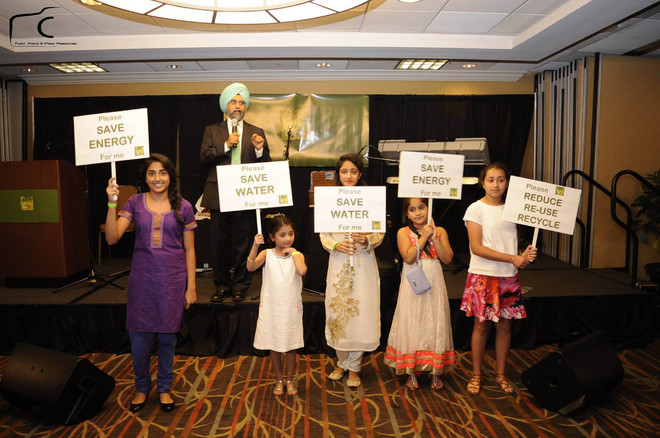 Tribune News Service
Amritsar, June 25
"You can have growth with less," said Dr Mohanbir Sawhney while speaking on the environmental preservation in a constantly spending and extracting world economy at the annual EcoSikh Benefit Dinner in Washington, DC.
Dr Sawhney, a business consultant and professor at Kellogg School of Management at Northwestern University, is no stranger to the ins and outs of the economic growth, which often has disastrous effects on the environment. According to a statement here today, Sawhney, in his keynote speech, challenged the audience to reduce the excess in their lives by outlining ways to live with less, reducing the number of cars they own, trimming their energy usage, and using economic growth to invest in environmental conservation. He also emphasised that "If all Indians and Chinese were to live by the Western lifestyle, this world will no longer be sustainable. The only way out is for all of us to practice voluntary simplicity."
Over 250 guests joined Dr Sawhney and EcoSikh at a benefit dinner, an annual fundraiser to support the environmental organisation's international programmes. "Consistently, EcoSikh's fundraiser is the largest gathering of Sikhs for environmental action in the United States," said event organisers.
The event featured musical entertainment from Devender Pal Singh, a Punjabi pop star and former Indian Idol contestant. Special celebrity guest and NBA athlete Gursimran "Sim" Bhullar also spoke at the event. While talking about water issues such as groundwater depletion and pollution in India, Dr Rajwant Singh, president of EcoSikh, said "The environmental crisis facing Punjab is a survival issue. It is our desire to make sure that Sikhs are present in every conversation, dialogue on environment and climate change at all levels internationally. The Sikh perspective pertaining to environment given by the Gurus needs to be propagated."
"EcoSikh will not be able to survive without support from all over the world, especially from the Washington community.," he added.
Top News
Asks not to spread fake news amid reports of her distancing ...
'US-India partnership is a cornerstone for a free and open I...
Rehana Fathima, a woman's right activist, was facing charges...
On August 3, 1991, Congress leader and brother of former MLA...
Injured admitted to hospital in Imphal where their condition...