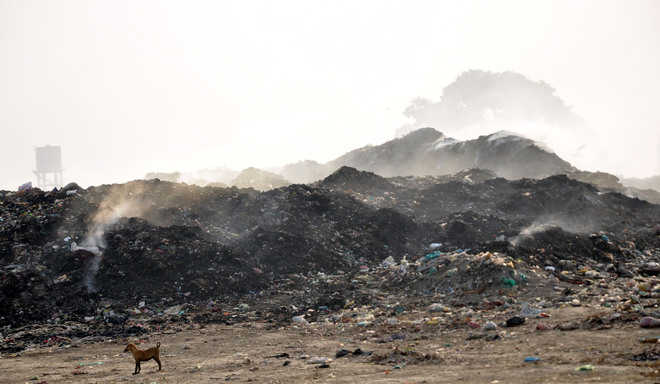 Charanjit Singh Teja
Tribune News Service
Amritsar, June 3
While the world is all set to observe World Environment Day on June 5, the city has been facing serious issues of air quality and depleting groundwater table. The tall claims often made by administration have fallen flat as no concrete step has been taken to address the environmental issues.
There were reports that air pollution has been affecting the gold plates of Golden Temple. The coal-fed hearths at Guru Bazaar were banned. Around 10 years back, the National Green Tribunal (NGT) had banned the registration of new autorickshaws in the city. However, thousands of illegal diesel-run autorickshaws are plying in the city, which are registered at peripheral towns.
Meanwhile, regular fire at the Bhagtanwala garbage dump is affecting the air quality of the city. Environmental activist Sanjay Sharma said he has been closely watching the air quality index of the city. "Whenever there is a major fire at the dump, the air quality of the city dips. Even mobile phones indicate that air quality is not as per the standards," he said.
PC Sharma, a social activist, has been raising voice against the dumping of industrial waste in nullahs and reverse boring. He also wrote to the National Green Tribunal and Punjab Pollution Control Board to keep check on the industrial units. Sharma claimed that a large number of industrial units have not installed effluent treatment plants (ETP).
A recent sampling of groundwater by the Department of Water Supply and Sanitation revealed alarmingly high arsenic content in samples taken from Amritsar and surrounding areas.
"Observing Environment Day should not be confined to raising slogans. The administration has to take some concrete steps to address the air and water pollution," said Naveen Kumar, a resident.
Top News
It was a follow-up of the seizure of 13 kg heroine
The speeding truck broadsides a Lucknow depot bus
The girl had visited Aaftab's flat twice in the month of Oct...