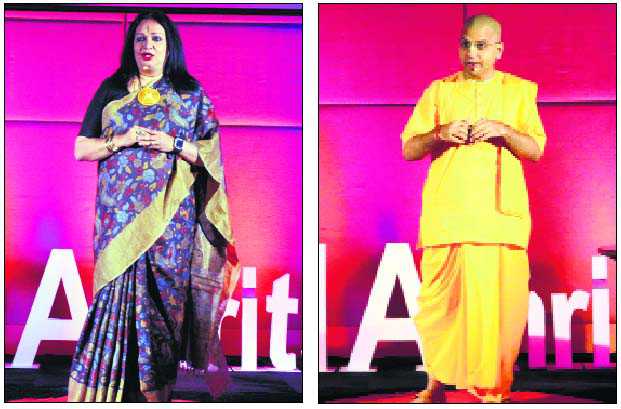 Neha Saini
Tribune News Service
Amritsar, September 19
Everyone celebrates success. From books, quotes, films to pop culture references, success has cemented its premier elite position, though no one really has a consistent recipe for it. A confluence of stalwart personalities, while addressing the subject of 'Success is no accident' at the inaugural TEDx hosted by the IIM, Amritsar, provided stories and anecdotes that further asserted the belief that success comes through observation, participation, competence and confidence.
Padam Shree Dr Mahesh Verma, prosthodontist, threw light on shortcuts to success. "No one ever found a cook book that contained the recipes of success. The thousands of fuzzy definitions of success in numerous books all but indicate that success is driven by the attitude of never giving up, utilisation of common sense and being aware that success may cause accidents since it is a slippery road. Success may require one to take tough calls and bypass the norms of the society.'
'Slow down'
Dr Sujaya Banerjee, founder, CEO, Capstone Consulting, reflected how we are bombarded with several million bits of data each second while the mind is capable of processing only an iota of that, thereby clouding our conscience with plethora of biases. "There is a need to think slow initially so as to embrace diversity and shun judgments. Slowing down a bit to understand the pace of things is significant for better results."
Padma Shri classical danseuse Pratibha Prahlad and Dr Sheetal Vohra, a supreme court lawyer, shared the challenges women face in work environment. "There are certain professions that do not see much participation. There are very few women who practice and litigate. The challenging work life balance, hostile conditions and lineage issues force the women to drop out," said Vohra.
India's forest man
Born in Assam, the only life Jadav Peyang, who is now called the Forest Man of India, knew was in harmony with nature. So when he took up the initiative to plant trees, one at each time, in the 300 hectares of sandbars in Jorhat district in Assam, he knew that his small efforts will eventually reap in big results. Today, the area has transformed into a forest, thriving with wildlife and plantation.
Jadav received Padam Shree in 2015 for his efforts, but he said that a lot has to be done. "One has to always think about small efforts that on a continuous basis reap fruits to be enjoyed for several years to come. Strong will and tremendous dedication can never bend a man's dream of attaining success," was his message for anyone who desired for change. He insisted that success, development need not require a sacrifice of environment.
The thirteen speakers at the TEDx session included Avatar Lila Das (monk, life coach), Padma Shri Dr Mahesh Verma (prosthodontist), Dr Sheetal Vohra (Supreme Court lawyer), Dr Sujaya Banerjee (founder, CEO, Capstone Consulting), Padma Shri Jadav Payeng (Forest Man of India), Krishnarjun Bhattacharya (author, film-maker), Manish Tyagi (stand-up comedian), Padma Shri Pratibha Prahlad (Bharat Natyam dancer, educator), Sukriti Chaturvedi (video jockey, blogger), Varun Malhotra (financial literary expert), Vijay Kedia (Kedia Securities Pvt Limited), Indrani Chatterjee (HR Thought Leader, entrepreneur) and Anupal Banerjee (CHRO, TATA Technologies).