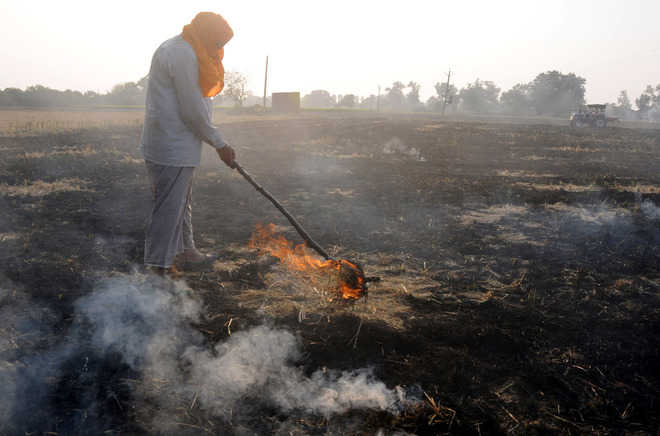 Our Correspondent
Tarn Taran, October 15
Farmers of Plasaur village, under the banner of Kisan Mazdoor Sangharsh Committee (KMSC), staged a protest by burning stubble on Monday. A large number of farmers, under the leadership of Satinam Singh Manochahal of the KMSC, participated in the protest.
Lakhwinder Singh Plasaur and others, while addressing the farmers, said they were compelled to do so in the absence of any financial support from the government for farm waste management. They alleged that the state government had made no arrangement for stubble management. According to them, paddy cultivation was not in the state's interest amid depleting water table. "It is forced on the farmers only to give benefit to the companies producing fertilisers, insecticides, pesticides etc., leaving the farmers under heavy debt," he said.
The protesters said there were hardly any takers for sugarcane and other products, so farmers didn't take interest in their cultivation as there was no procurement policy.
Top News
Tensions flared between India and Canada after Trudeau's exp...
The bureau had launched an investigation into the matter bas...
Rudrankksh shoots 632.5, Tomar 631.6 and Panwar 629.6 to agg...
Victim claims her husband had borrowed Rs 1,500 from Pramod ...
Chinese consul general says relations between the two countr...