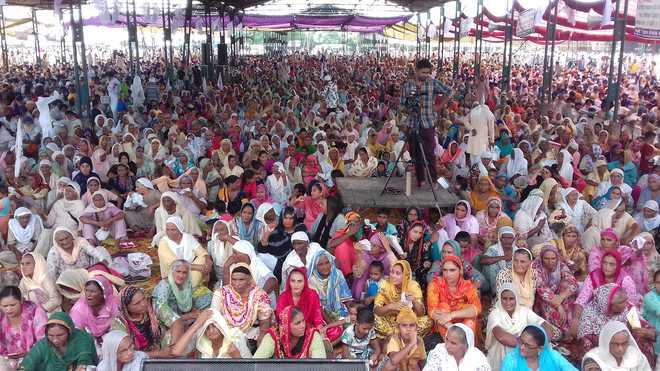 Our Correspondent
Tarn Taran, September 8
The Kisan Mazdoor Sangarash Committee (KMSC), Punjab, organised a state-level rally at the grain market here on Sunday. They were demanding implementation of the already 'accepted demands'. The protesters said if their demands were not accepted they would begin a three-day dharna in front of the Deputy Commissioner's office from October 1.
The rally was dedicated to the workers who sacrificed their lives during different agitations in the state.
Organisation's leadership warned the state and the Central government that if their demands were not accepted immediately they would block rail traffic on October 3.
Leaders of the organisation said accord was signed between the state government and the KMSC bilateral talks. State Chief Secretary Karan Avtar Singh signed the accord on behalf of the government. There document carried 14 demands, including loan waiver for farmers.
The workers from across the state, including women, participated in the rally.
Satnam Singh Pannu, state president of the organisation, criticised the withdrawal of Section 370 and 35-A from the J&K. He alleged the region had been converted into a jail. The organisation donated Rs 4.16 lakh and five quintals of wheat to the flood affected resident of Lohian block under Jalandhar district.
Top Stories