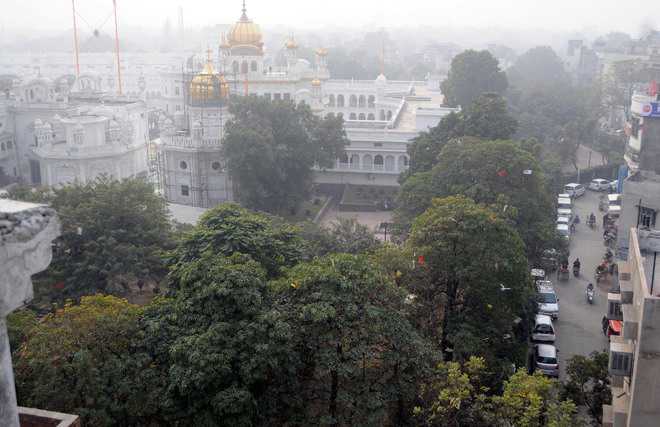 Neeraj Bagga
Tribune News Service
Amritsar, February 3
Though no new phase has been approved under the Golden Temple's Galliara Beautification Project for the last five years, the government is yet to formally declare its closure.
Presently, the Rs200 crore Golden Temple entrance plaza project is being executed by the PWD. The Galliara Project, which cost Rs160 crore to the government, was handled by three departments since its start on June 9, 1988. Different government departments administered the Galliara Project.
The project was in fact prepared from the security aspect, following two military operations for flushing out armed terrorists from the Golden Temple complex.
Initially, the Galliara Project was looked upon with suspicion by the Sikh community. However, with the passage of time it became a work of beautification, which enhanced the majestic aura of the white colour boundary walls of the Sikh shrine, juxtaposed with green landscaped garden on its outer. In the densely populated area of the walled city it offers a whiff of fresh air.
After completion of the five phases five years ago, the state government had sought approval from the Union Home Ministry for the sixth and seventh phases of the Galliara Scheme. These proposals, which were estimated to cost Rs740 crore, did not elicit any response from the Central government.
Besides, these two phases envisaged displacement of trading areas, situated in the vicinity of the Golden Temple for centuries, on a large scale.
The Galliara Project is now being administered by the Amritsar Development Authority (ADA). Before 2010, it was handled by the Punjab Water Supply and Sewerage Board and Amritsar Municipal Corporation. From the outset till 1994, it was looked after by five land acquisition collectors, who acquired land on behalf of the government.
As many as 859 families were uprooted while 500 houses and 1,150 shops were demolished during the acquisition process. Shopkeepers were resettled in various markets of the holy city, including Pink Plaza, Shaheed Bhagat Singh Market, IDH Market and Green Plaza. Over the years these markets have acquired lucrative commercial value.
Top News
'Democracy flourishes when legislature, judiciary and execut...
AAP wins 134 of 250 wards, BJP 104; Congress reduced to just...
It will all depend on who can hold the numbers in a close co...
Terming the Indian economy a bright spot in the otherwise gl...
Results will determine if AAP will become a national party