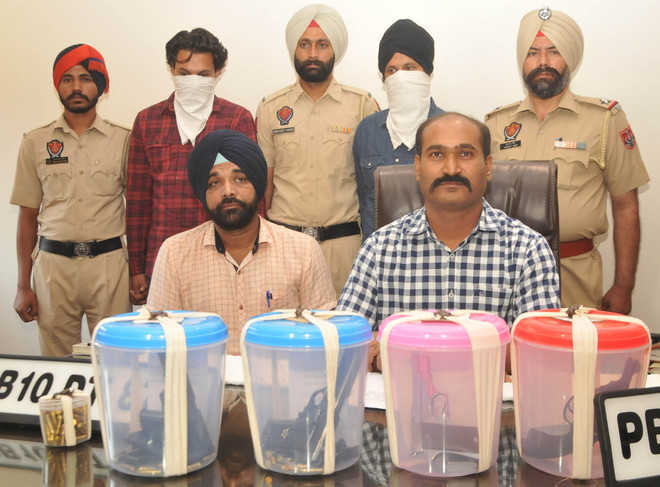 Charanjit Singh Teja
Tribune News Service
Amritsar, June 14
Officials of the counter intelligence wing, Amritsar, apprehended two persons possessing arms and ammunition here on Friday. The accused have been identified as Karamjit Singh, alias Karma, of New Model Colony, opposite OCM Mill in Chheharta, and Harmanjit Singh, alias Padda, of Padda Pheruman village of Baba Bakala. The police have recovered three pistols, a revolver four magazines and 155 cartridges from their possession. The ammunition is unlicensed.
Ketan Patil Baliram, Assistant Inspector General of Police (AIGP), Counter Intelligence, said that on the secret tip-off, a police team, led by Inspector Inderdeep Singh, apprehended the wanted criminals near Mananwala when they were heading toward Jalandhar in an Innova car. The registration number plates of the car too didn't match with its documents.
Police officials said a preliminary investigation revealed that Karamjit Singh, alias Karma, was involved in several criminal activities, like money extortion. He is wanted in a case of attempt to murder and under Arms Act at Chheharta police station. Another attempt to murder case has been registered at Beas police station against him. A case under the Arms Act at Beas police station stands registered against Harmanjit Singh, alias Harman Padda. After the registration of case against him, Karamjit Singh Karma fled to Jalandhar. During that period, he met Harmanjit Singh who consequently became his close associate.
Ketan Patil Baliram, AIGP, said Karma has a tiff with several people so it is likely that in order to keep himself armed, he arranged illegal weapons which have been seized. "Further investigation is going on to know from where they got the weapons and what was their actual intention," Baliram said.
The police seized two .30 bore pistols along with two magazines and 94 live rounds, one .32 bore pistol along with two magazines and 17 live cartridge, and another .32 bore firearm with 44 cartridges.
A case under Section 25 of the Arms Act has been registered against the accused by the State Special Operations Cell, Amritsar.