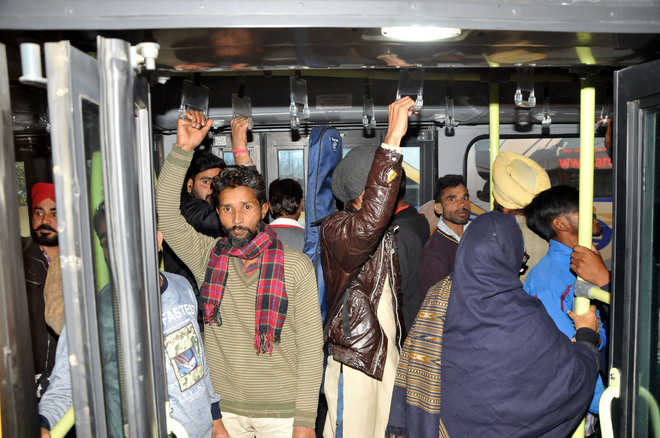 Charanjit Singh Teja
Tribune News Service
Amritsar, February 19
After observing the rush of passengers in Metro buses, the authorities have decided to increase their frequency from tomorrow. Earlier, the passengers have to wait for a bus for 6 to 8 minutes at Metro bus stations. Now, officials have decided to reduce the time gap between two buses on the same route to five minutes.
According to the official figure, the daily ridership has touched the 60,000 mark, which need more buses on the BRTS track.
Chief Executive Officer Inderjeet Singh Chawla said, "The BRTS ridership on Monday was around 60,000 that is a record. Tomorrow onwards, the number of trips is being increased. The time gap between two buses on the same route will reduce to five minutes. Officially, it is six minutes."
The BRTS officials said they had witnessed a major shift in the public opinion. A large number of passengers were using the service on a regular basis and were satisfy with service, they added.
The bus service is free for first three months and most of the buses in all routes have witnessed heavy rush. The service was launched by Minister for Local Government Navjot Singh Sidhu on January 29. Initially, the public was not aware that the government was offering free rides. In the past 10 days, the ridership has increased rapidly.
Last week, heavy footfall of passengers on Metro buses was attributed to weather conditions.
Top News
7 others, including Ahmed's brother Khalid Azim alias Ashraf...
Writes to Mohit Rajan, Deputy Secretary in the MS Branch of ...
Amritpal's counsel on the other hand contended that he was i...
Sukhwinder Singh ran a finance business in Manila for the pa...
During the intervening night of March 27-28, BSF troops dete...