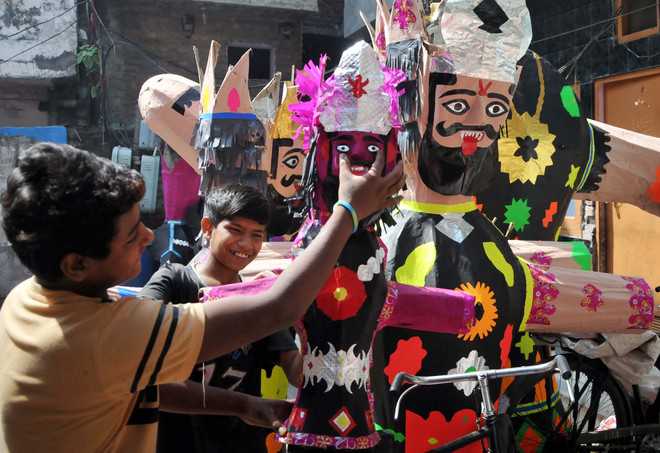 Charanjit Singh Teja
Tribune News Service
Amritsar, October 7
The late Banwari Lal has become a brand name in the city for manufacturing effigies of Ravana, the demon king, to be set afire on the festival of Dasehra. Vinod (50), grandson of Banwari Lal, has manufactured a 200-foot effigy of King Ravana, the tallest in the city. According to Vinod, his grandfather, Banwari Lal, migrated from Uttar Pradesh and worked at Taran Tarn. He learnt to make effigies at Taran Tarn. After Partition, he started living in the city near the Lohgarh gate. He was the first person who started making effigies outside the Lohgarh gate. Over the years, he became a brand name and till now people know us by his name. Most of the other effigy makers in the market learnt the skill from my grandfather or my father. Now, they are running their independent businesses.
Vinod, who started making the effigies during his childhood days, finds the job interesting.
"It is our part-time job for only two months in a year. I work as a tailor during the rest of the time. I love this work as my parents and grandparents used to do this. Now my brothers and our sons also do the same work. I enjoy the festivities while making the effigies," said Vinod Kumar.
More than 100 families from Uttar Pradesh have been working 24x7 to meet the demand for the effigies on the Dasehra festival. Everyone in the family has some job. The male members of the family instal the bamboos to make the structure. The elders, who can't move much or can't carry weight, often give the shape or heads and crowns by cutting the bamboo in pieces. Young women cover the bamboos with hard papers. The school going children paint the body of the effigy with ink and decorate it with colourful papers. The main artist gives the shape to the faces of the effigies.
"Earlier, the maximum height of an effigy used to be 60 ft, as it was quite heavy to transport. With the emergence of Ditch machines now, we make effigies up to 200 ft in height. The purchasing power of the Dasehra committees also increases. They spend Rs 3 to Rs 5 lakh on an effigy," said Vinod.
Meanwhile, the children make small effigies which are 1 ft or 2 ft long. Suraj, a child in the locality, says, "I make one effigy daily. I will price it at Rs 200."
Interestingly, most of the families of effigy makers are from the oarsmen community of UP and they don't make effigies at their native place.
"I am from Dehradun and got married seven years ago. No one in my maternal family had made effigies, but after marriage I became an expert in this art," said a 28-year-old woman.