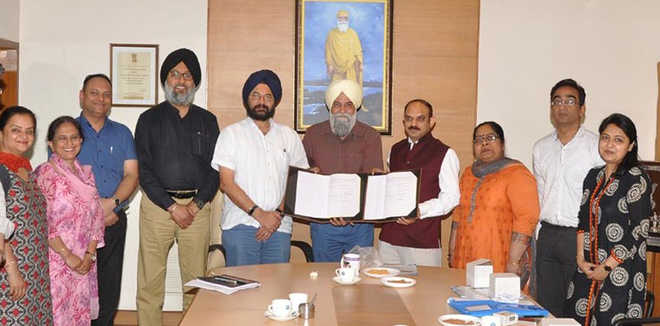 Tribune News Service
Amritsar, May 3
Guru Nanak Dev University (GNDU) and Punjab Remote Sensing Centre (PRSC), Ludhiana, signed a memorandum of understanding (MoU) on cooperation in the field of geospatial technology on Thursday.
GNDU Registrar Dr KS Kahlon and PRSC Director Dr Brijendra Pateriya, in the presence of Vice-Chancellor Prof Dr Jaspal Singh Sandhu and other officials, signed the pact.
Dr Pateriya said such collaborations are needed for conducting society relevant research and making it cost effective. "The MoU has laid the foundation for cooperation between the GNDU and the PRSC for academic and research exchange programmes," said Dr Sandhu. The faculty members and students of the university will be able to work on live projects relevant to the people of Punjab, he added.
Dr Preet Mohinder Singh Bedi, coordinator, University Industry Linkage Programme, said "The scope of the MoU also involves sharing of expertise, domain knowledge and available facilities, publication of research papers in international journals. The exchange of staff for research programmes and jointly writing books in the areas listed above or in any other area of mutual interest."
Dr Bedi said the expertise of the PRSC and the GNDU would be optimally used for management of soil, crop and water resources in the country, especially in Punjab. Hi-tech development, including end-to-end systems, networks and solutions to address water and food security, training programmes and joint research projects, will get major boost as a result of this MoU.
Prof Kamaljit Singh, Dean, Academic Affairs; Prof Avinash Nagpal, Dean, Life Sciences; Prof SS Chimni, in-charge, Public Relations; and officials from both the institutions were present.
Top News
Gurpatwant Pannu, head of the banned terror outfit Sikhs For...
'Sidhu Moosewala murder mastermind will be very soon in the ...
NIA had announces Rs 10 lakh reward on Harpreet Singh alias ...
2 Akali leaders distance themselves from the Unity and Coord...