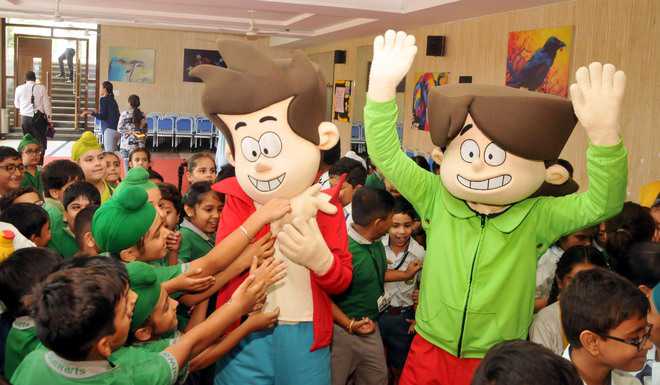 Tribune News Service
Amritsar, August 29
Under the school contact programme of popular children's entertainment channel Nickelodeon, characters from popular series Gattu Battu and Sonic's Prank Sessions with Golmaal Jr Nicktoons were held at Stalwarts World School. The latest edition of the programme is being organised in 650 schools across various cities. The programme aims to lighten the stress among kids and welcome the new academic year on a fun, happy and positive note.
As part of the school contact programme, the popular Golmaal Jr gang – Gopal and Madhav-- lead the campaign at Stalwarts World School. The prank gang – Gopal and Madhav-- engaged the kids with interactive activities. The young viewers got a chance to play games, click selfies with the toons and win some existing prizes during the programme. Manisha Dhanuka, Principal, Stalwarts World School, commented, "This is a great initiative as it not only lets kids interact with the toons on a personal level but also relieves them from their stress. It also helps kids easy the process when they are starting a new academic year."
Top News
The voting in the five states was held between November 7 an...
Defence acquisition projects include procurement of 97 Tejas...
India has constituted a probe team to investigate allegation...
Nikhil Gupta, 52, has been charged with murder-for-hire in c...
GDP growth in the first quarter of current fiscal — April-Ju...