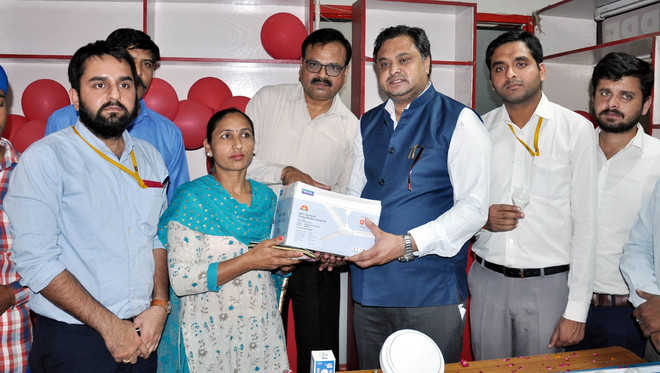 Tribune News Service
Amritsar, September 18
Energy Efficiency Services Limited (EESL) on Tuesday said it had started distribution of energy efficient appliances through general post office (GPO).
The EESL is a joint venture of four public sector enterprises – NTPC Limited, PFC, REC and POWERGRID— and was set up under the Ministry of Power. At present 60 post offices under the postal division shall be offering this facility.
Speaking on the occasion, Nitin Bhatt, regional head, Punjab, EESL said, "Post offices have been an integral part of our lives since time immemorial and the benefit of their wider reach is now being reaped through the selling of UJALA appliances. These appliances are cheaper than others available in the market. The idea is to help common man access energy efficient appliances near their homes."
"One can either buy or get faulty appliances replaced at these centers at post offices. In future, we shall also be extending our counters at other public places," he added.
"The price of one LED bulb is Rs 70, the ceiling fans cost Rs 1,110 and energy efficient LED tube light costs Rs 220. Energy Efficiency Services Limited has distributed over 18.5 lakh LED bulbs, more than 1.2 lakh LED tube lights and over 30,000 energy efficient fans in the Punjab and Chandigarh region. The distribution is estimated to lead massive daily energy savings in the budget of a common man," added Darpan Mago, officer, public relations, Energy Efficiency Services Limited.
Makhan Singh, Senior Superintendent, Amritsar Division, said, "The residents can come at GPO during working days. All post offices under Amritsar division are now using these LED appliances. We are hopeful for massive reduction in electricity bills. The aim is to provide energy-efficient appliances to people at cheaper rates."
Top News
Jammu and Kashmir Lieutenant Governor Manoj Sinha and politi...
Cops say case cracked within three days with the arrest of a...
Indonesia football association suspends league to investigat...
Samajwadi Party patron is under treatment in Gurugram hospit...
DGP dismisses Mansa CIA Incharge, FIR registered against err...