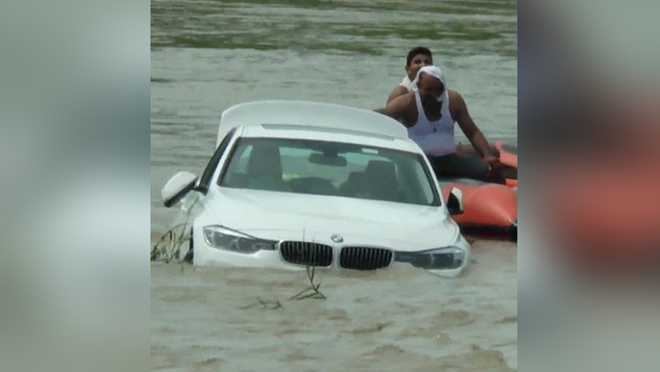 Tribune News Service
Amritsar, August 24
Twenty four-year-old Akash from Yamunagar became a sensationalism fodder after his video drowning a BMW car went viral. People termed him a 'spoilt' brat, but even his family didn't know that he was suffering from a mental illness.
Sanjeev Kumar, an agriculturist from Yamunagar, said his son is suffering from bipolar disorder. "We got to know about it when we took him to mental health experts after he drowned the BMW car. We never knew that Akash was suffering from mental illness and always thought that his aggression was a natural behavior."
Contrary to what media reports stated, Sanjeev says he is not rich and Akash never demanded a Jaguar. "We are middle class farmers. Akash has always displayed aggressive outbursts. So we used to fulfill his demands thinking that it would pacify him. So, when he demanded, we got him a BMW after selling a piece of land."
Akash has a wife and a six-month-old son. He added that after the next day of the reported incident, Akash attempted to jump in the same river. "That's when we sensed that he is not mentally sound."
Akash's maternal uncle Yashpal, who is also a farmer, says misreporting of the incident created a lot of misconceptions about the boy and his family. "It was difficult to answer people's queries as everyone thought that we are priviledged and ungrateful. It was difficult to explain his actions. Even we were confused as to why he behaved in such a manner. Now, I guess, we are a bit relived as we have a reason to explain about his behaviour. We will get him all the help he needs," he said.
Akash's family, including his wife, are now engaged in the process of his treatment. A sense of grandiose made him record that video.
Dr JPS Bhatia, a neuro-psychiatrist in the city, who diagnosed Akash, said: "Bipolar disorder is exposed only through abnormal behaviour. Most patients lead a seemingly normal life until some kind of fetish or a triggering habit discloses their illness. In Akash's case, it was his fetish with luxury cars. His aggression and state of extreme energy came out when he got stuck to one luxury car or another. That's probably the reason he recorded the video to get a sense of grandiose. When he came to us, he was unwilling to admit he had a problem, which is another pointer for us."
He added that the entire episode also once again highlighted the gross ignorance among people about mental health. "When the video went viral, nobody took a moment to think about his mental health. Everyone was quick to judge him for his aggressive act. We get so many cases with similar history and what's common is that their families are not aware of their mental illness," he added.