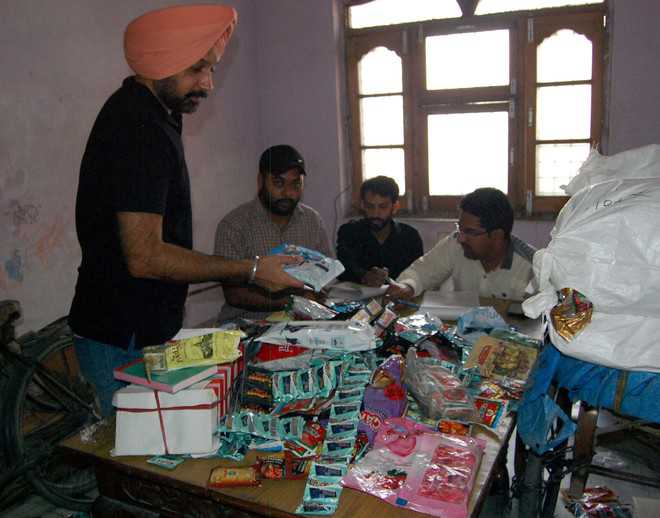 Tribune News Service
Amritsar, June 1
In the biggest ever seizure of banned tobacco products in the area, the District Health Department seized around 100 gunny bags containing chewing tobacco packets from a godown in a residential area here today. Department officials said over two lakh packets of chewing tobacco were contained in these gunny bags. The seized products cost over Rs 20 lakh in the market.
Chief Parliamentary Secretary Dr Navjot Kaur Sidhu accompanied by Civil Surgeon Dr Pardeep Chawla had raided the godown in Sundar Nagar near the bus stand which is owned by one Roshan Lal of Tilak Nagar. It was Dr Sidhu who had received a tip-off regarding the godown in the area, said health officials
The seized products had the brand names such as Swagat Gold Tobacco, Loyal Filter Tobacco, Ganesh 701 Premium Tobacco, Raj Niwas Flavoured Pan Masala, Juicy Mint Snus, Rock on Filter Khaini, Cool Lip Filter Tobacco and VC-5 Tobacco. The department has sealed the godown, said District Health Officer Dr Shivkaran Singh Kahlon.
The state government had banned the sale of gutka and other chewing tobacco products considering their ill-effects on human health. These tobacco products are a known cause of oral cancer. Dr Kahlon said, "Even under Food Safety and Standards Act, tobacco cannot be used as an ingredient in any food product." He said 13 samples of products seized from the godown had been taken.
"The reports would be available within two days after which we would initiate action on its basis," he said. Kahlon revealed that few of the packets seized had already expired. "The expiry date mentioned on these packets has already passed. Further, most of the packets have manufacturing unit addresses of Haryana and Delhi," he said.
The seizure has given credentials to the reports that chewing tobacco products are being sold in the market, even as the state government had banned its sale and use. The officials stated that the seizure would help in breaking the supply chain of the banned tobacco products.