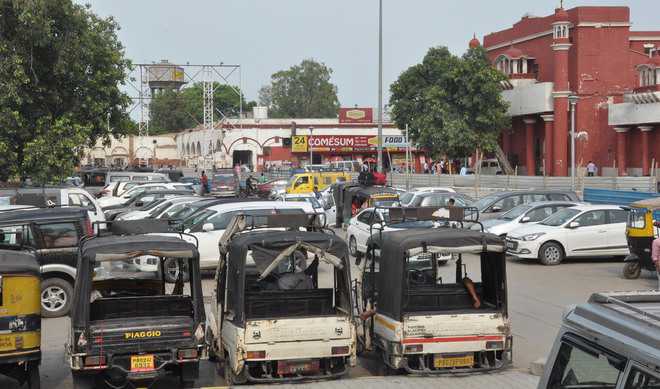 Tribune News Service
Amritsar, July 9
Students of the Indian Institute of Management (IIM), Amritsar, in their study on the parking system of the city railway station, have suggested changes in the present system.
The participants included Mathew, Sanchit, Vaibhav and Aditya. They undertook a study from October 2018 to March 2019 under the guidance of Dr Neeraj Bhanot, Assistant Professor, Quantitative Methods and Operations Management. In the proposed layout based on the research, the existing parking is separated into three parts — one for two-wheelers and another for four-wheelers with separate entry and exit paths, and the third for the auto services.
Mathew says, "Vehicles can be seen parked haphazardly for an indefinite period. The area for two-wheelers and four wheeler vehicles has to be revamped. The new layout is made keeping in mind smooth circulation of the traffic with two drop lanes and an additional lane for the prepaid auto-taxi services which would add substantial non-fare revenue for the Railways."
"Though there is a specific parking slot, there is no monitoring of vehicles. We also spoke to auto and taxi drivers. The area is not being utilised as per the space available," said another student, Aditya.
Sanchit said, "We have not proposed parking fee as after talking to people we realised that there are different charges for different hours. People do not want to pay if they have come to drop someone. We have a proposal for the issue as well."
Dr Neeraj said, "These are some of the major suggestions with support of Amrit Singh, (Director, Amritsar railway station) to benefit the stakeholders involved, including people, railway authority and the taxi/auto owners. The station has an average footfall of around 55,000 people per day. With more than 30 per cent of the commuters depending on autorickshaws, we believe our proposal will create substantial revenue for the Railways."