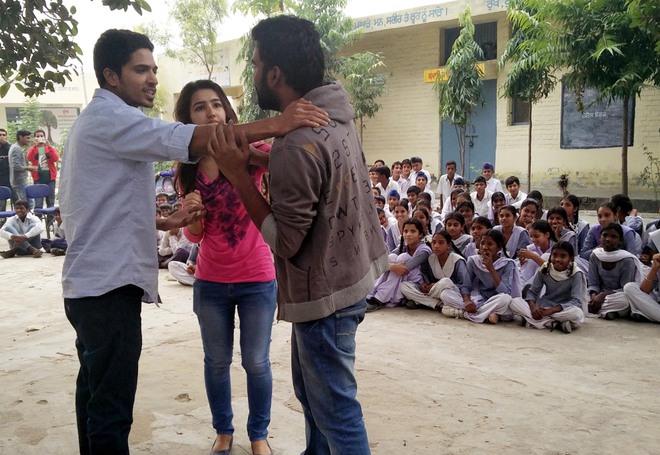 GS Paul
Tribune News Service
Amritsar, November 30
Students of the Indian Institute of Management (IIM), Amritsar, ventured out in the rural border belt to sensitise youth about drug abuse through 'nukkad nataks' (street plays). They are also contemplating to start a helpline to counsel those, who have been hooked to drugs.
Under their corporate social responsibilities (CSR) initiative, they have formed "Sankalp", a committee, to raise voice against social vices. They started their journey with a campaign "Say no to drugs" from Bachiwind village, near Attari border.
The drug abuse issue is top priority of their agenda after they discovered through net and interaction with localities about the problem being faced by Punjab.
Akhilesh Rai, an IIM, Amritsar, student, said they were compelled to reach the genesis of drug abuse after learning that Punjab was crippled by the problem. He said, "Amritsar's youth, especially those hailing from the border villages, are most vulnerable to drugs because of its close proximity to Pakistan from where drugs are smuggled."
"We are all from far off stations. I am from Jabalpur (MP). We interacted with the people around us and discovered that drug abuse is the main issue among local youth. Besides we took the help of Google and found that drug abuse tops the list of issues faced by Punjab. We unanimously decided to do our bit to drive youth away from this menace," he added
Another IIM student, Somnath Chakraborty, said they planned to visit other rural areas too. He said, "We started our campaign from Government Senior Secondary School, Bachiwind, near Attari. We enacted a street play to draw attention of students. We are also planning to launch a helpline to offer free counselling to youth, who have fallen to this menace. We will reach out to their parents to advice them to act in a friendly manner to help their wards shun this habit on their own and not to banish them."
Another IIM student, Sonali Panwar, said their focus was on Class VIII students and upwards. He said those students, who were not addicted to drugs, were addressed first. To make the session interesting, students were asked about their dreams, aspirations, and hopes. They were introduced to ill effects of drugs, and explained how these could affect their dreams, he added.