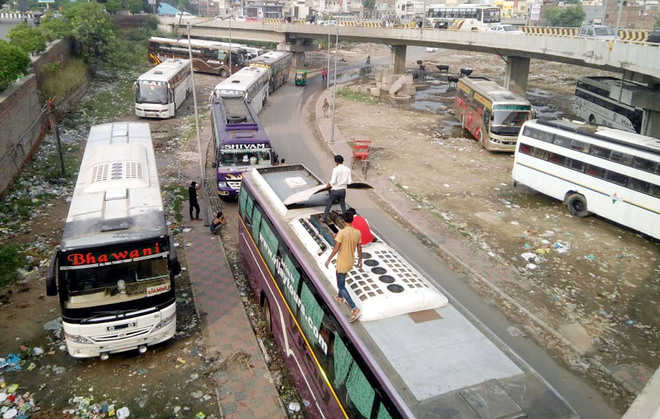 Amritsar, September 15
Private bus operators have been parking their buses illegally at Old Sabji Mandi ground. Despite warning by the Estate Wing of the Municipal Corporation, the practice is going on unabated. The MC has recently auctioned the parking lot. The buses being parked on the road leading to the Hall Gate has been proving to be a hurdle in the movement of traffic.
As per the BRTS plan, the area under Bhandari bridge intervention was supposed to be converted into a green park. Instead of developing the park, the nearby shopkeepers have been using it as a garbage dump.
The estate wing officials claimed that they warned the bus operators to not to park the buses on road and also installed boards of 'no parking'.
"We have allotted the Samaji Mandi Land for parking to a contractor. He might take possession of land soon. The traffic police officials should challan the bus operators. We will also take action on the illegal parking of buses," said Sushant Bahtia, estate officer. — TNS