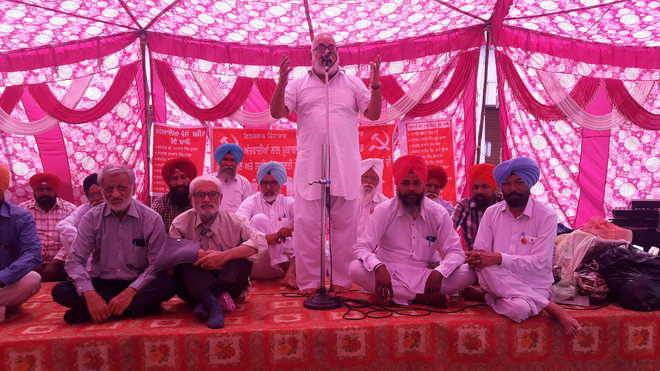 gurbax puri
Tarn Taran, June 10
Taking serious note of the "decreasing" mass base of the Communist parties in the country, Mangat Ram Pasla, national general secretary of the Revolutionary Marxist Party of India (RMPI), called on Leftists to come together to self analyse the reasons for the situation.
Addressing a political conference organised to pay tribute to Deepak Dhawan and other communist leaders who were killed during militancy, Pasla today said the Left was the only political force in the country that always chose to fight for the people with disciplined and cadre-based parties but the wrong polices of the leadership had brought the Leftists to a worrisome situation.
"The communal force led by the RSS and the BJP is dividing people on the basis of community, religion and caste to rule right from the grassroots level to the top most posts, including the constitutional institutions," |Pasla said.
He asked the Left parties to stay united to face the current threat to the fundamental principles of communal harmony and sex-based equality.
Rattan Singh Randhawa, president of the state unit of the party, was among those who addressed the gathering and told masses to be ready to fight against communal forces.