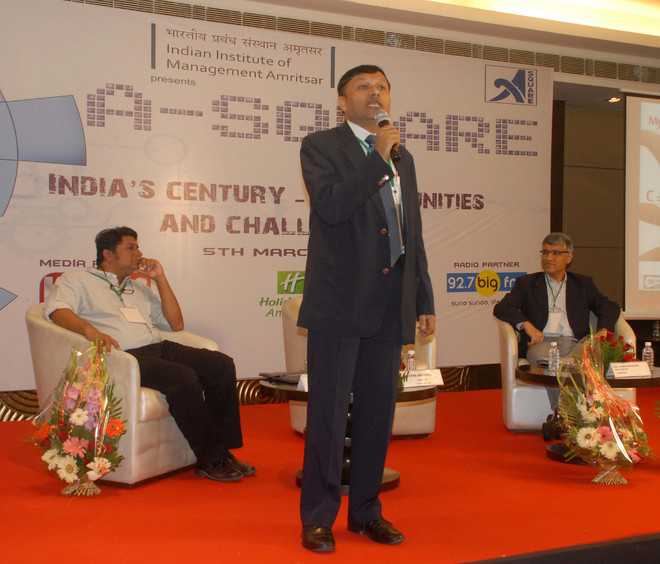 Tribune News Service
Amritsar, March 5
India as an economic powerhouse in the 21st century, riding on starts-ups and innovations, emerged as the theme of the maiden conclave— A-Square— organised by the students of the Indian Institute of Amritsar here today.
The seminar on the topic, 'India's century: Opportunities and challenges for business,' was supported and aided by the institute's mentor-director Kulbhushan Balooni, who is also the director of IIM Kozhikode and a team of faculty members.
The students of IIM Amritsar conceptualised A-Square, the annual management conclave, in the first year of its inception.
Addressing the gathering of industry stalwarts, corporate head honchos, academicians and students, Balooni said the decision of the Indian government to allow 100 per cent foreign direct investment (FDI) in food processing industry will have a far-reaching impact and that IIM Amritsar will play a big role in boosting the agricultural economy of Punjab, by developing domain expertise in agro-based business.
The programme began with the lighting of the traditional lamp by Balooni.
Business head of Godrej Properties Rupak Agarwal and Keyoor Purani, Dean, Development, IIM Kozikhode, were the keynote speakers.
In his introductory speech, Purani said, "A-Square is an event for the students, by the students and this is a live learning laboratory for them where they apply management learnings."
Other speakers at the forum were Dr Milan Agnihotri, Leo Burnett, Rakesh Sharma, Philips, Saurabh Dasgupta, Pankaj Dubey, Avnish Sabharwal, Ajit Singh, Arun Sawhney, Sunil Agarwal, Basant Maheshwari and Ashish Gupta, all leading stalwarts of the corporate sector.
Top Stories