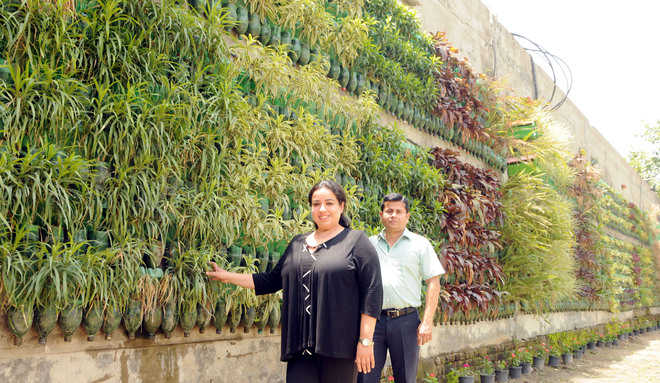 Manmeet Singh Gill
Tribune News Service
Amritsar, June 21
At a time when people complain of shortage of horizontal space to develop gardens, the holy city's Mehra family has come up with a novel idea of erecting a vertical garden using used plastic bottles.
A brain child of a trained interior designer and homemaker, Gitanjali Mehra, and her IRS husband, Rohit Mehra, the technique has widely caught the eyes of neighours who too have started erecting vertical gardens at their homes.
Geetanjali says, "I am open to provide consultation to anyone who is interested in having a vertical garden. We think that lack of space should not be a hindrance in turning your surroundings green." She said that in Ludhiana where her husband is posted as an Additional Commissioner, Income Tax, the vertical gardens have been erected at many schools and even at Gurdwara Dukhniwaran.
Talking about the procedure, she tells that one needs used plastic bottles, screws to attach bottles to wall and a simple drip irrigation system. "Initially we collected used bottles from our family friends who were more than willing to help. Later we had to buy these from scrap dealers." She said that she has deliberately used native plants as they are more tolerant to local weather conditions. She added that so far they have used 33 different kinds of plants.
Rohit Mehra says that in the past two and half years, when the idea had first struck, they used around 1.75 lakh used plastic bottles. "Waste plastic is a major environmental concern. It is better to put these bottles to good use by planting small shrubs in them." He says that a vertical garden not only helps in longevity of wall as it protects it from extreme weather conditions but also helps in lowering the indoor temperature by almost five degrees Celsius.
To keep the weight of the bottle low, they have used a mixture of coco peat, vermin compost and coal ash as the base for planting saplings. Mehra family's home was recently visited by Environment Minister Om Parkash Soni and DC Kamaldeep Singh Sangha.
Top News
This comes amid a diplomatic row between India and Canada ov...
Was speaking to Indian journalists in Washington
Granthi Giani Jaswinder Singh from Pine Hill Gurdwara in New...
Heavy security deployed to deal with the situation
Head Constable Chaubey Singh, Constable Omveer Singh and Con...