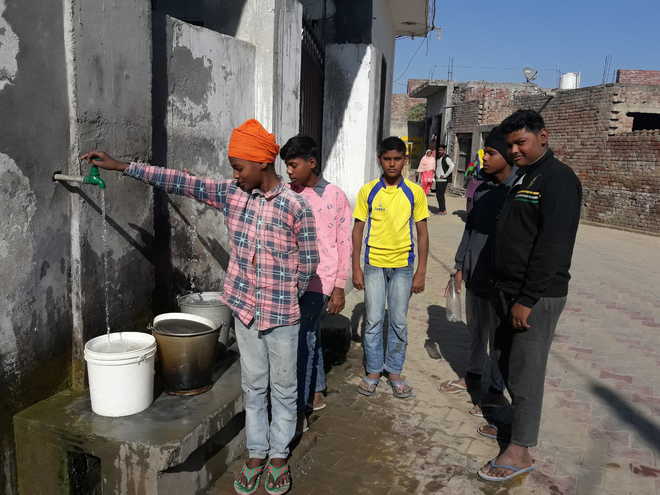 The water harvesting project in Kot Dharam Chand Kalan village of the district has resulted in water contamination for the villagers. The sewage of the entire village is being stored in this project. It has made the underground water unfit not only for consumption but also for washing clothes.
Under the project, a village pond was developed and Rs 8.5 lakh was spent on it around four years ago. At that time, the officials concerned had stated that the project would do away with the problem of waterlogging in streets as waste water would be drained into the catchment area. Underground pipes were laid to drain the waste water into it.
As many as 500 families were connected with the project. The water collected in here was to be used for irrigation or other purposes. With the passage of time, the stored water made the underground water contaminated. Foul smell emanates from the catchment area, making it difficult for people to breathe nearby.
Bhagwant Singh, member of the block samiti, along with others said the project was of no use for the residents. "It has made villagers' lives miserable. It has made underground water contaminated. Due to this, the handpumps are dispensing highly contaminated water. Even borewells with a considerable depty are unfit for human consumption," he said.
Residents said the problem has forced them to bring water from a nearby gurdwara. People say they have brought the matter into the notice of the officials concerned as well as politicians, but to no avail. The project had been almost forgotten by the officials of the MGNREGA, they say.
MGNREGA Coordinator Daljit Singh said he was unaware of the situation. He said he would send a technical assistant to take stock of it.
People said they have been demanding potable water facility.
Industrialists perturbed over rising crime
Perturbed over the poor law and order, entrepreneurs at the Goindwal Sahib Industrial Complex, under the banner of Goindwal Industrial Association, led by its president Ramandeep Singh Bharowal, have submitted a memorandum to SSP Darshan Singh Mann. The industrialists stated in the memorandum that their workers, most of whom are migrants, often face snatchings and robberies in broad daylight.
They said that the closed factories were also being targeted by thieves as the material kept on their premises had been disappearing with the each passing day. Wood, iron bars, tin sheds and other items are often taken away by thieves, they rued.
According to the industrialists, the rising incidents of crime had forced labourers to flee the area. They also highlighted the issue of stolen street lights and manhole covers. They demanded from the police immediate arrest of the anti-social elements to bring calm to the region.
Top News
Opposition for debate on ethics panel report | Ready for str...
Congress gears up to shift its MLAs to Karnataka