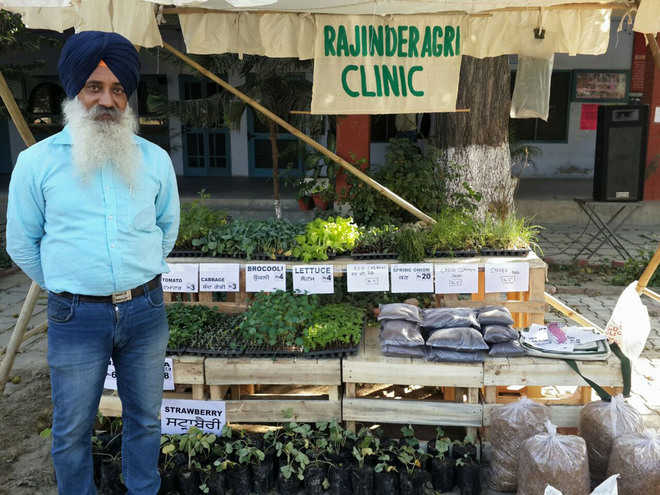 Tribune News Service
Amritsar, November 27
Organisers of the fresh food and natural products market hosted by Shahzada Nand College every Sunday have now invited farmers to watch a live demo of organic farming techniques.
These workshops are trying to promote healthy produce by educating consumers on growing suitable vegetables and fruits in their kitchen gardens.
A natural farming hub, Rajinder Clinic, which provides seeds and kits for home-farming, held the first such workshop today. Instructions and ready kits for growing mushrooms at home were displayed during the workshop. Besides, information on growing vegetables including broccoli, bell peppers and cauliflower in home gardens was also shared.
While making people aware on desired change to switch to "no poison" food (zero pesticide products), EcoAmritsar project administrator Gurjit Singh acknowledged that farmers today had suffered heavily due to health issues. He said each family had lost at least one member to toxic sprays. "Being aware of poison in food being grown by them, now, farmers have set apart a small patch where they grow naturally cultivated vegetables for their families. We are encouraging them to expand their organic farming areas and slowly convert to completely pesticide free farms," he said.
Regular classes are being held on natural farming techniques for farmers in the region by the city-based NGO, Dilbir Foundation.
A young farmer, Kawalpreet Singh, who has sown potatoes on a patch free of toxic fertilisers and pesticides, concedes that working without herbicides, fungicides, weedicides and other chemicals increases workload. But, he was willing to sacrifice if sufficient market was available for his produce.
Dilbir Foundation chairman Gunbir Singh said the effort would sustain if people of the city cooperate. He said, "More and more pickle and jam makers, besides food specialists, are now agreeing to buy vegetables, fruits and spices from these farmers to make organic packaged products without adding any preservatives." "It is an encouraging development," he added.
Top News
UPI soon for all in-bound travellers, coin-vending machines:...
The bench was told by Solicitor General Tushar Mehta, appear...
US officials have briefed its friends and allies including I...
The incident takes place during the intervening night of Feb...
Asking the offices of Delhi Lt Governor and MCD House Pro te...