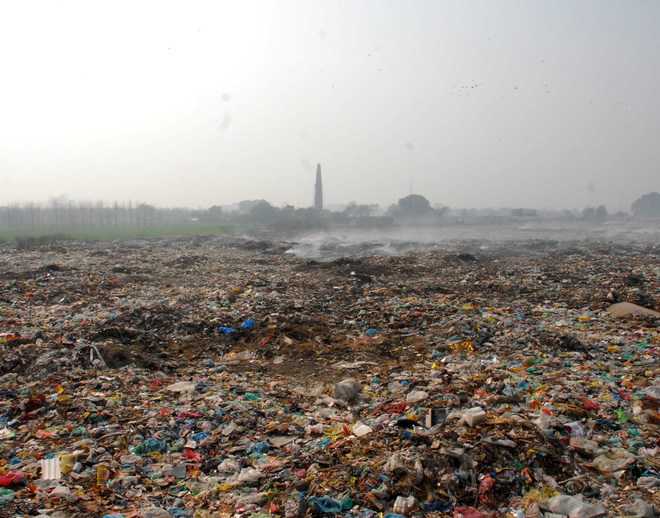 Tribune News Service
Amritsar, March 9
No official of the private firm engaged for setting up of solid waste management project (SWMP) turned up to sign an agreement on March 8. The Municipal Corporation authorities are expecting that the agreement will be signed soon.
The panel constituted for executing the SWMP in Amritsar, headed by Mayor Bakshi Ram Arora along with Joint Commissioner Surinder Singh, continued to wait for company officials to turn up for signing the agreement at the camp office yesterday, but no one came from their side. The MC authorities received an e-mail on the eleventh hour in which the company sought extension of date for signing the agreement to March 18.
It is evident to mention here that this for the third time that the company has failed to sign the agreement in past three months. The project was allotted to Ess Ell Group of Mumbai, which along with Japan-based Hitachi Company, has to establish the solid waste management plant at Bhagtanwala garbage dump here.
In the first phase the company will start lifting and transportation while in second phase electricity will be produced from the garbage.
MC Joint Commissioner Surinder Singh said there was a technical reason behind the delay as all the requisite formalities and conditions before signing the agreement had been completed. He said actually the person, who had to arrive for signing the agreement had some personal problems. Therefore, he had sought time till March 18. He said it was likely that the agreement would be signed before the time. The company had already deposited Rs 6 crore with the MC as security and bank guarantee. Therefore there was no question that the company would withdraw at this stage, he added.
Mayor Bakshi Ram Arora said the company was apprised that it was not complying with the rules and conditions given in the tender. He said the company had sought time till March 18. "We hope that officials of the firm will sign the agreement soon," he added.