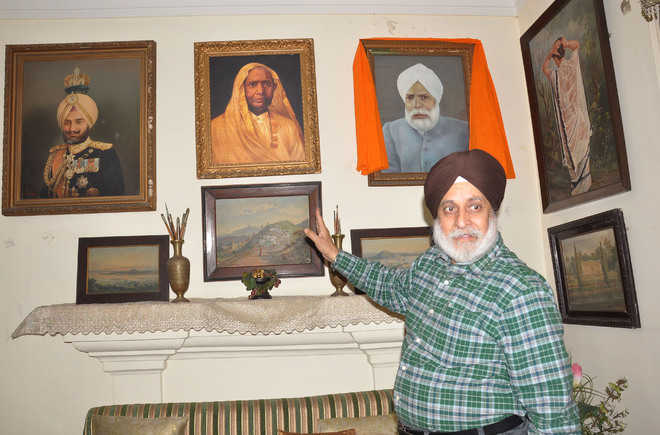 Neha Saini
Tribune News Service
Amritsar, February 28
He was the state artist for more than 10 princely states at the time when India was under British Raj. His first commercial work got him Rs 500 when he was only 18 year old. But SG Thakar Singh, a celebrated artist from Amritsar, found his calling in promoting art besides creating masterpieces. Founder president of Indian Academy of Fine Arts, which runs the SG Thakar Singh Art Gallery in the city, the Padam Shree artist has aimed for making Amritsar a hub of art.
"He used to take keen interest in teaching art as hobby classes at the time to youngsters. As a kid himself, my father used to draw on earthen walls in his native village of Verka by using coal. He had the knack of using colours and composition in a way that infused life into his paintings, just like a true artist," said Paramjit Singh, son of SG Thakar Singh. Paramjit Singh, who still resides in the ancestral home of the artist at Cooper Road, said that he plans to preserve his father's legacy by dedicating a museum to his name.
"A lot of his personal belongings, including his paint brushes, blocks, palatte, wooden table on which he used to draw and over 30 of his original paintings are with us. It's been a challenge over the years to preserve and take care of his paintings. With a space dedicated to his art work, his legacy will find visibility and due recognition as it should." The family also has a lot of handwritten letters by the artist, his correspondences with popular patrons including Jawaharlal Nehru, Rabindranath Tagore and Russian artist Nicholas Roerich. "We have displayed his prominent works, including his most celebrated and prized art work — After The Bath — at our home," said Paramjit, who is an architect by profession.
He says that his father's legacy is the heritage of not just Amritsar, but the country. He was awarded Padam Shree. His works have been compared to artists like Raja Ravi Verma by art historians. During his lifetime, he must have made over 10,000 art works, most of which adorn the heritage palaces and buildings across the country. A museum would be a tribute to his legacy, he added.