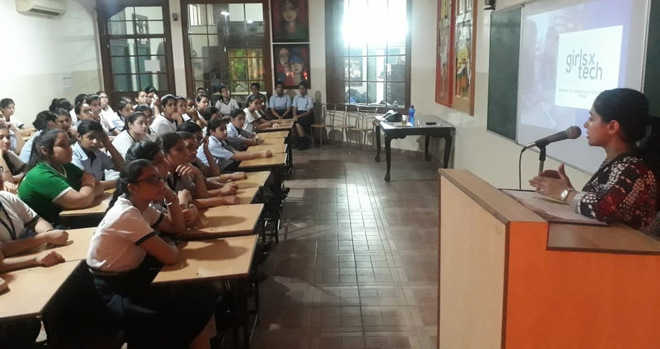 Tribune News Service
Amritsar, October 22
A non-profit organisation, Girls into Tech, also known as 'Girls X Tech', has been empowering girls with knowledge of coding through its tech-related education programmes.
The organisation has held sessions with schools such as Senior Study II and Ajanta Public School and is in the process of involving more schools in the city. The organisation has set up Girls X Tech Clubs which has girl students from Class VI onwards.
Aashna Arora, chief city officer of the NGO, said: "During initial research, we found out that the number of girls taking up technical courses was less. We want to bridge the technological gap between the two genders. There is a proper curriculum to teach in institutions. We want to develop the interest of girl students in technology."
Girls X Tech has also collaborated with Girls Who Code, USA, to provide girls with access to new technological tools and reference material on graphic design and web and app development. The schools are being charged Rs 100 per child.
The NGO has recently signed an MoU with Startup Punjab to foster initiative and entrepreneurship among women in the state. The MoU was signed by executive director of Startup Punjab Ashooneet Kaur and founder of the NGO Param Singh, where both agreed to jointly work towards providing the right technological skills and an optimum environment for growth and sustainability of women-led startups.
"The idea is to promote technology among girls and make them learn its various aspects." Added Arora.
Top Stories