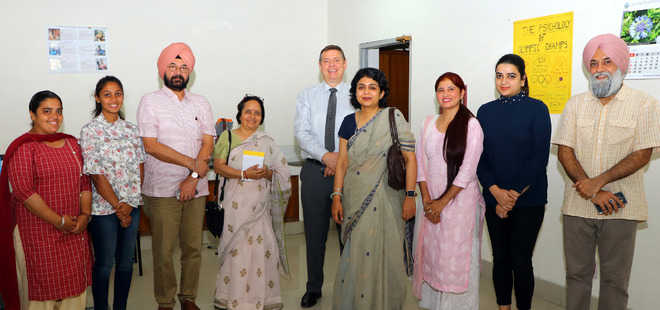 Tribune News Service
Amritsar, April 10
Guru Nanak Dev University (GNDU) has entered into a partnership with one of the leading universities in the US, University of South Florida (USF), to establish a programme of exchange and collaboration in terms of having dual degree programmes in B.Com and selective MBA courses.
An MoU has been signed between USF's vice-president professor Roger Brindley and GNDU's Vice-Chancellor professor Jaspal Singh Sandhu a few days back. The collaboration will increase the number of academic and research exchange opportunities between the students and faculty members of both the universities. Today, the team comprising of Brindley, USF System vice president, USF World, University of South Florida, USA and Aruna Dasgupta, country adviser-India for University of South Florida visited Guru Nanak Dev University.
Under these proposed programmes, students will join Guru Nanak Dev University in B.Com and spend three years here and last year in the USF. Similarly, in the case of MBA degree programme, students will spend one-and-a-half-year here and last six months at the USF. Both the universities will extend all facilities and support to the students. These initiatives will be undertaken under the newly set up Centre for Entrepreneurship and Innovation in Guru Nanak Dev University. Also a joint academic and research initiative in the field of biomechanics will be undertaken by the Department of Sports Sciences and Medicine and the Department of Physiotherapy of the USF.
Prof Sandhu said, "The university is creating a will shape the way for future of Indo-US research partnership. Initially, a couple of courses will be started under this dual degree programme and later more courses will be incorporated keeping in view the need of the region. This initiative will further cement our university's position as one of the world's premier locations for research and innovation." He further added that the modes of cooperation could include faculty visits for collaboration in research, student mobility programmes for learning, development of joint research projects and dissemination of finding through scholarly publication knowledge especially for job oriented disciplines.
Professor Roger Brindley said that this strategic partnership between the University of South Florida and Guru Nanak Dev University was a milestone with respect to international relations. He said that we were looking forward to a long and fruitful collaboration with different departments of the GNDU such as Centre for Entrepreneurship and Innovation (CEI). A warm discussion was also held between members of both the universities which also included students and faculty members.
Top News
Modi: Reduction in train mishaps since 2014
The Kabul-born Durani played 29 Tests
Notably, Shah's tour of Sasaram in Rohtas district has been ...
Bodies of eight persons were found on Friday in a marsh on t...
'Plot to impose President's rule in Punjab'