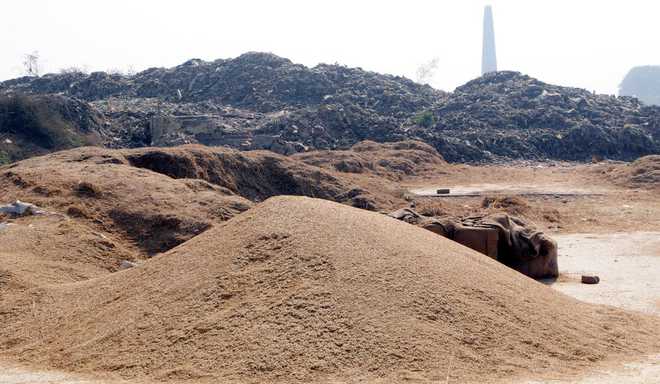 GS Paul
Tribune News Service
Amritsar, January 14
Even as the Municipal Corporation is all set to float tenders for the setting up of the Solid Waste Management Plant at Bhagtanwala tomorrow, the Amritsar-based Pollution Control Committee is gearing up to move the National Green Tribunal, opposing the move on the ground that the dumpyard site violates the Municipal Solid Waste (MSW) norms-2000.
The committee has sought a site on the citys outskirts for the plant because the designated site is located amidst living population, it is adjacent to Asia's biggest foodgrain market, near to the age old railway line, and, most importantly, all the holy sarovars are within 1.8 km, including the Golden Temple.
Earlier, the committee had filed a PIL No. 2032/06 in the high court in 2006 seeking shifting of the garbage dump from its present location at Bhagtanwala. According to the proposal, a cluster at Bhagatanwala will get the waste transferred from eight local bodies in Amritsar and Tarn Taran districts.
The committee's president, Parkash Singh Bhatti, said the high court had never directed the government to instal the plant at Bhagtanwala and that the things were twisted according to political will. Detailed written representations were sent to the government at all levels, including PPCB, Patiala, but in vain.
"We want a scientific plant to be set up to treat the MSW being generated from the city, but not at the cost of residents health and its ill effects on the sacred shrines. Overlooking all these aspects, things were manipulated at the government level for vested political interests. It was sheer violation of MSW-2000 norms to allow Bhagtanwala as a dumping site or installing the Solid Waste Management Plant, he said.
We realised that this matter can only be decided at a higher level. Therefore, we have decided to request the National Green Tribunal to prevent the state government from installing the plant at Bhagtanwala and save the holy city and its holy sarovars and shift the present site to any other site, he said.
The high court in its decision dated July 23, 2013 has clearly mentioned in the opening lines of its decision that PIL No. 2032/06 has been accepted, but it lost its value after the Punjab Government constituted Solid Waste Management Committees for different clusters of the state.
The committee had raised this issue before the Punjab Pollution Control Board, Patiala, too.
Top News
Next hearing soon, closely following matter and extending al...
Sonia Gandhi, Mallikarjun Kharge, Rahul, Priyanka attend the...
Flags concerns to US, Canada over Pannun's threat to Air Ind...
Wray is expected to hold talks with senior Indian security o...
Sources say while a date for the meeting has not been finali...