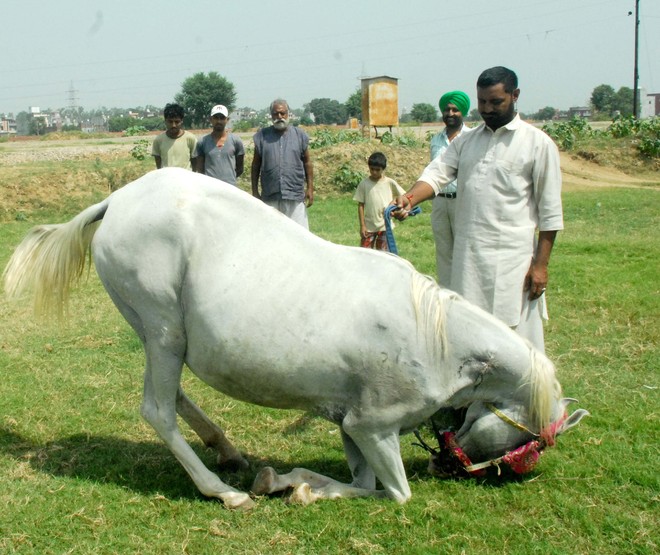 Neeraj Bagga
Tribune News Service
Amritsar, September 5
A resident of the Maqboolpura area, Jasbir Singh Jassa, is perhaps the solitary master in the holy city, who trains horses to dance. An art fast fading into oblivion demands immense patience and a deep rapport between the master and his horse.
It is rare to sight a master in this vocation and popularity of art has earned him name "Jassa Ghoriwala". Even a child can guide anyone to his residence from any of the 12 streets of the Maqboolpura area.
The art of training horses to dance has been passed on from one generation to the next in his family. He got trained under the watchful eyes of his grandfather Baga Singh and father Harbans Singh. He started learning the art at the young age of 10.
He said, "I have been into the vocation for the past nearly 40 years." A matter of concern for him is that nobody from his next generation is interested in learning the art. All his three sons have chosen vocations of their likings. His eldest son Kulwinder Singh is employed in the Municipal Corporation, younger Ajay is working in a private limited firm and the eldest Sunny is studying in plus two.
He say, "It takes a one to three months to train horses. Generally mares are trained to dance." He visits different fairs at Jagraon Mandi, Muktsar and others to buy horses. He said horses have become very pricey these days. Cost of one horse starts from Rs 1.25 lakh and goes upwards. "Besides, the cost of rearing and feeding has escalated immensely," he adds.
Top News
Opposition Congress demands resignation of CM Naveen Patnaik...
Pace sensation Titas Sadhu, leg-spinner Parshavi Chopra dish...
Congress leader says people of J-K are in pain and his party...
Said there is a push from a growing number of member nations...
'Winning on the field and off it': ICC posts video on social...