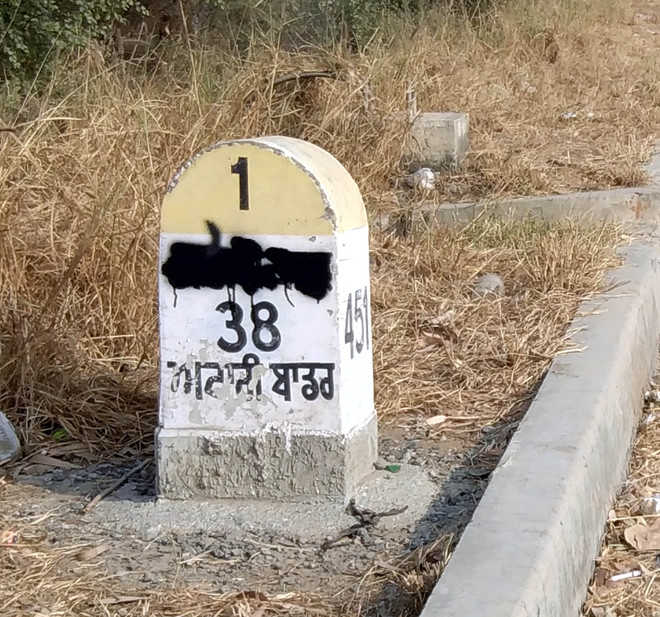 Charanjit Singh Teja
Tribune News Service
Amritsar October 27
Unidentified pro-Punjabi activists have blackened a large number of Hindi and English milestones and signboards in the Majha region. Earlier, on the calls of some pro-Punjabi organisations and gangster-turned- politician Lakha Sadhana, the activists had smudged the Hindi and English text written on signboards on the Amritsar-Bathinda highway (NH-15).
The unidentified activists targeted the Hindi and English signboards and the milestones on the Amritsar-Pathankot highway and Amritsar-Delhi highway (NH-1). They blackened a large number of milestones, which had the names of villages alongside the Amritsar-Pathankot Highway in Hindi and English.
The milestones installed near villages, including Wariam Nagal, Naushehra Maja Singh, Udhowal, Kathu Nagal, Fatehgarh Sukhar Chak, Said Mubarik, Hardo-Jhande, Sohal, Gopalpura , Lehal, Jethuwal and Mudal, were painted black.
Apart from the milestones, the activists also blackened the instructions and warnings written in Hindi. Some of the green signboards were also painted black on the Amritsar-Pathankot highway.
Similarly, the names of major towns written on signage boards on the National Highway-1 were also blackened.
The movement had started in protest against writing Punjabi below than Hindi and English on the signboards on the Amritsar-Bathinda highway in the Malwa region two weeks back. The pro-Punjabi activists led by the Malwa Youth Federation, the Bharti Kisan Union (Krantikari), the Dal Khalsa and the SAD (Amritsar) marched on NH-15 and blackened the signboards on the 25-km stretch.
continued on p2