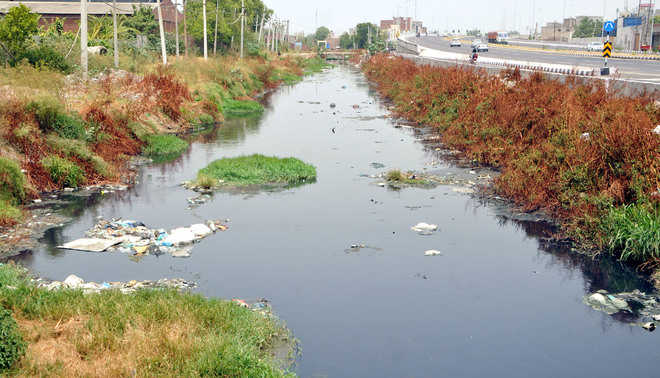 Neeraj Bagga
Tribune News Service
Amritsar, June 12
Cleaning of high-toxic elements and effluents from Tung Dhab drain, also known as Hudiara, remain a distant dream. The government had announced cleaning of the drain under the Mission Tandrust Punjab. The then announcement had caught attention of the residents who were living in its periphery.
Since National Environmental Engineering Research Institute (NEERI) has backed out of the ambitious project of cleaning the drain due to extremely high-toxic elements, residents are clueless.
Mohan Singh Dhillon, a resident of Anmol Enclave, close to the nullah (drain), said, extremely polluted effluent of the drain emanates pungent smell throughout the year. The situation exacerbates during summers. "Apart from human health, its disastrous impact is visible on electronic gadgets, like fridge, AC and television. These frequently develop snags," he said.
Another resident, Simran Singh of Amardas Colony, said the bad odour emanating from the nullah makes it impossible to breathe. To prevent the bad odour, residents keep their doors and windows bolted. He added that he recently spent Rs 6,250 for getting his air conditioner (AC) repaired. He said operationalisation of two sewage treatment plants (STP) at Khapar Kheri and Baserke Bhani villages to clean effluents of the nullah did not bring desired result. Under a Union government scheme, funded by the JICA, these STPs are supposed to de-toxify and clean the nullah.
Vigilant citizens lament that there has been no punitive action against the erring industries while expectation of green and clean environment along the four-lane road has disappeared after the NEERI backed out of the proposed project.
It may be mentioned here that the Nagpur-based Research Institute NEERI, a reputed organisation which focuses on research in water supply and sewage disposal, had shelved its plan of cleaning the Tung Dhab drain and converting its surroundings into a green space after its engineers found the drain carrying alarmingly high-effluent level.
An official of the Punjab Pollution Control Board (PPCB), who didn't wish to be named, said the matter of cleaning the nullah was lying with the government.