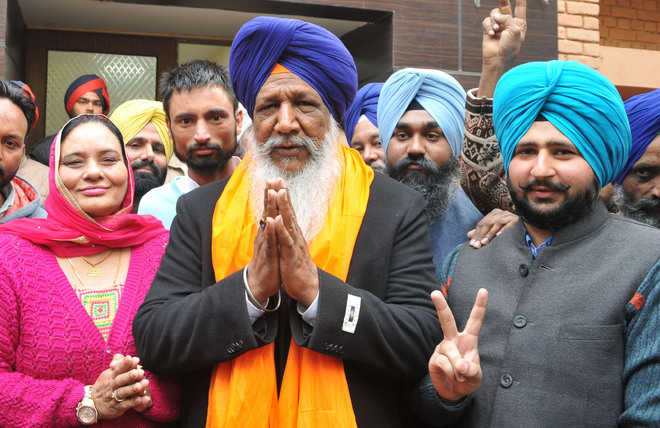 Charanjit Singh Teja
Tribune News Service
Amritsar, January 18
All is not well for Shrimani Akali Dal (SAD) veteran Gulzar Singh Ranike, who is contesting for his fifth term from the Attari constituency, this time. Persons near to him have been observing that he is working hard as the Aam Adami Party (AAP) candidate has emerged as a challenge for him. The Congress candidate, Tarsem Singh, is also trying hard.
Ranike leaves his house early in the morning and campaigns in his constituency till late in the evening.
Ranike was elected MLA from Attari in 1997 and repeated his victory in 2002, 2007 and 2012 from the same constituency.
The SAD-BJP has been facing strong resentment from farmers of the border belt, who were asked to evacuate their houses after surgical strikes across the Line of Control.
However, Ranike refuted the claim by stating that the SAD was the only party, which raised voice for farmers of the border area.
"We made arrangements for people after evacuation. The SGPC had offered langar and the government had established camps. People had faced inconvenience, but there is no resentment. They are aware that Parkash Singh Badal is the only leader, who visits Delhi for their cause. Other parties don't even issue statement," said Ranike.
Speaking on the anti-incumbency and anger against the SAD government, Ranike said, "There is no anger against the party or government. We have observed that there is factionalism among SAD workers at the village level. Sometimes, it happens, when we give more grants than requirement".
Reacting on the AAP candidate, Jaswinder Singh Jahangir, Ranike said, "It is good that the rival contestant is well qualified. But, in electoral history of the state, IAS and other well-educated have never succeeded."
"Politics is all about ground route links with common people. We are successful, because we meet them daily and hear their problems," he added.
According to Ranike, the government re-carpeted every link road and gave grants to sarpanches, besides the benefit of welfare schemes to rural masses.
"We were providing LPG gas connections and toilets to every household before the implementation of the code and conduct. The public is satisfied with our development works and welfare for economically weaker sections," he added.
Ranike is not using much new media techniques. However, his supporters update his facebook page several times in a day. He is also alone in the political battlefield as his wife takes care of food for campaigning teams. Meanwhile, Ranike's sons are not much interested in door-to-door campaign.