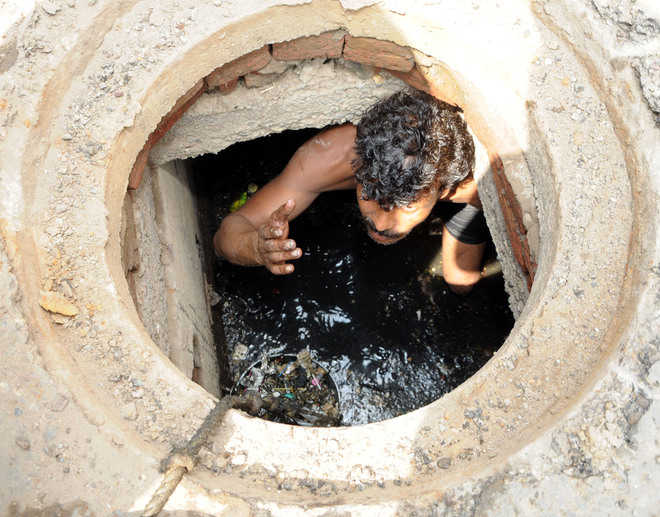 Charanjit Singh Teja
Tribune News Service
Amritsar, September 17
Defying the categorical ban on entering the manholes by the Supreme Court (SC), the practice goes on unabated in the city. Without wearing any safety mask and other equipment, three sewer men were spotted cleaning a sewer at Sultanwind Gate today afternoon. When asked, they said MC officials sent them routinely to do so. "If we don't enter manholes, they will mark us absent," said one of them.
The sewer men claimed that they clean three manholes daily in the area. "We don't have any uniform. I have watched on TV that safety mask and other equipment are required before entering the manholes, MC officials don't provide us. They provide bucket, rope and bamboo but not the mask," they said.
James, a sewer man, says his father died in 1992 owing to various diseases caused by the poisonous gases emanating from manholes. He says he too is suffering from similar ailments. "We know that we are dealing with death. But it is our job. My father died in his 40s. I got employment on compassionate ground. We don't have any other job option. We have been listening for years that introduction of super suction machines will give us relief from manual cleaning but we don't know when such machines will be brought to the walled city," he said.
Faquir Chand, who gets Rs 17,000 as the monthly salary, has been into this job for years. He too has a similar story to tell.
Gopi, a young sewer man, said, "We are aware of the court orders, but the rules pertaining to poor people are not implemented."
However, MC officials maintained that they were not aware of employees entering the manholes in the city.
Bhupinder Singh, Sub Divisional Officer (SDO), MC, said, "We don't allow anyone to enter the manholes. They may be workers of some private firm. We provided masks and uniforms to them. I don't know why they don't put it on. The proposal for the introduction of super suction machines has been passed, but couldn't be implemented for some reasons."
When contacted, MC Commissioner Amit Kumar said, "I will get the issue checked."
It is worth mentioning here that on March 27, 2014, the apex court had imposed a ban on entering or being forced to enter manholes unless there is an emergency. The court clarified that even in the case of emergency, entering a drain or manhole can only be permitted with the written approval of a chief executive officer and with all protective gears in place. As per the court, entering sewer lines without safety gears is a crime even in emergency situations.
Top News
Premises connected to news portal's journalists raided; 46 s...
Prime Minister accuses BRS dispensation of 'looting' funds m...
This is the gist of the letter sent by CM to Banwarilal Puro...
Also said that it's important for Canada to have diplomats o...
Petitioner contended that the nature of information sought i...