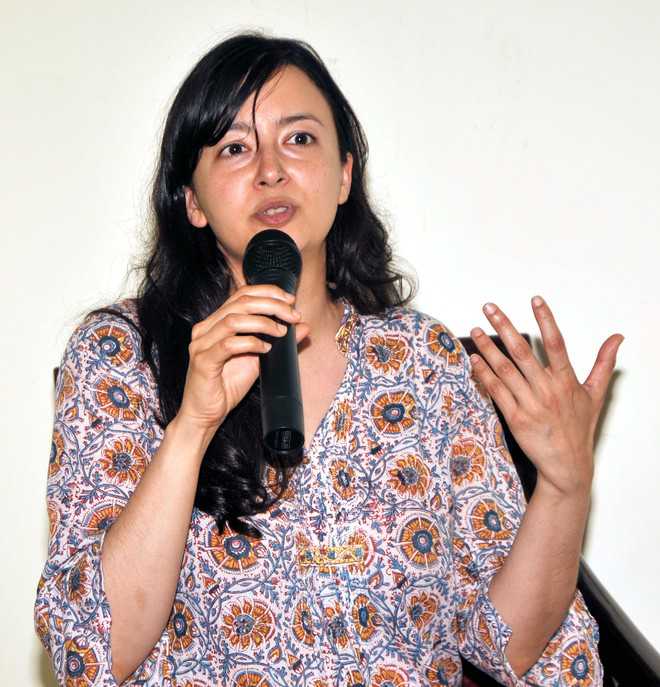 Divya Sharma
Tribune News Service
Amritsar, August 25
Documenting lives of Partition survivors through her non-profitable organisation, The 1947 Partition Archive, Guneeta Bhalla, reflected upon the need for oral histories, insights of the tragedy at Majha House on Sunday.
A non-resident Indian (NRI), Guneeta Bhalla, has been working towards preserving the stories of the carnage digitally. It took a mass misinterpretation of facts and lack of appropriate information on the Partition of India for her to leave her career as a Physicist and conceive the idea of The 1947 Partition Archive.
"I visited Japan in 2008 as a part of my research. I came across documentation of tragedies faced in the past by the nation. I wanted to fill in the void for August 1947 as I found disparity in history being written in my textbook as compared to the stories narrated back at home," shared Guneeta. Her team has been working in 12 different countries, collecting stories and preserving memories in the form of oral history.
"Oral history is a legacy to be preserved. These stories pass on from one generation to the other. It is imperative for us to hear the narratives of our elders. Besides the painful incidents, there are multiple stories of kindness, people helping each other with compassion. I have come across more stories of love than hatred."
As a part of her initiative, past incidents narrated by historians and citizens are recorded to be uploaded so as to make it accessible to the public. The material is also shared widely on social media. A total of 8,000 real life incidents have been recorded under her organisation.
"In my opinion, polarisation in India is growing at an alarming rate. At such times, stories of compassion from across the borders can work wonders," added Bhalla.
An interactive session was followed by a presentation. Professor Sarbjot Singh Behl, Dean Academic Affairs, GNDU, Arvinder Singh Chamak, general secretary, Indian Academy of Fine Arts, Preeti Gill, founder of Majha House, authors Deepa Agarwal and Tahmina Aziz Ayub were among the prominent ones present on the occasion.
Top News
Overseas ramifications as Boris Johnson's brother quits link...
Both Houses adjourned for the day amid uproar over Adani iss...
DGP said Arif was being handled by a Pak-based LeT terrorist...
CM Kejriwal says all the cases filed by ED are fake and they...
IPS officer has been accused of corruption and misconduct du...