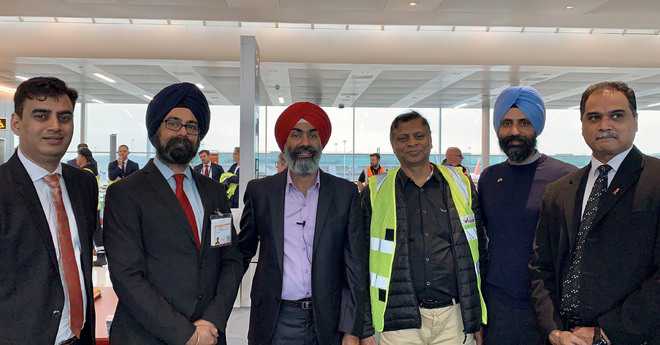 Neeraj Bagga
Tribune News Service
Amritsar, November 5
The Sikh diaspora has welcomed the start of a direct London to Amritsar flight by Air India to facilitate travel to Amritsar for Guru Nanak Dev's 550 birth anniversary celebrations.
In a joint press release, Charan Kanwal Singh Sekhon, chairman, SEVA Trust UK, and Sameep Singh Gumtala, global convener of FlyAmritsar Initiative and the overseas secretary of the Amritsar Vikas Manch (AVM), thanked Prime Minister Narendra Modi, Civil Aviation Minister Hardeep Singh Puri and Air India CMD Ashwani Lohani for the step ahead of the historic Gurpurb.
Gumtala travelled from the US to Amritsar specially to fly on the first flight from Amritsar to London. Passengers were given a warm welcome at the London Stansted Airport by Air India.
Sekhon flew on the first flight from London to Amritsar. Speaking on this historic occasion, he said, "SEVA Trust UK and the AVM joined hands in 2017 and both NGOs worked jointly and tirelessly on the issue. For the past more than one year, due to huge demand, we have been campaigning hard for a direct flight along with MPs in the UK, British councillors and mayors."
Welcoming the resumption of direct flights, he said, "We have been writing to PM Narendra Modi, Aviation Ministry, Air India and several other airlines. London is a world travel hub and with the start of the new flight, passengers can go directly to Amritsar, saving up to 15 hours of their time going via Delhi. The start of the new flight has also opened the door for more tourism, trade and economic growth." He said they would continue to campaign for more flights from London's Heathrow to Amritsar, said Sekhon.
Gumtala said after a gap of nine years, the city was now connected with a direct non-stop flight to the London airport. Air India operated its direct Amritsar-London-Toronto flight from October 2008 to October 2010.