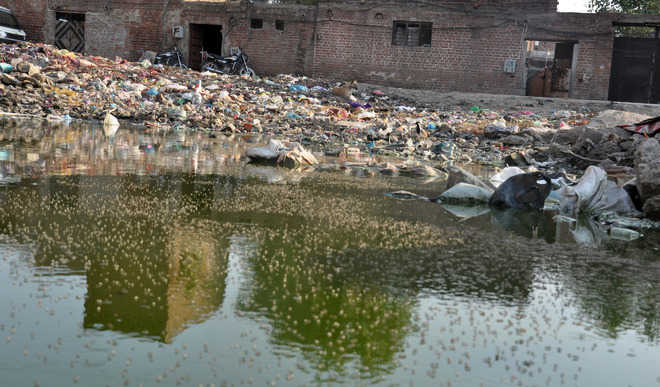 Tribune News Service
Amritsar, October 22
While the threat of vector-borne diseases, especially dengue and malaria, is looming large, the stagnant water in many areas of the city has become a cause for concern for residents as it is a breeding-ground for mosquitoes.
What is more worrisome is the lack of preparedness on the part of the administration to check the spread of mosquitoes. While the Municipal Corporation authorities claim that fogging is being conducted in city areas as per the rotation plan, residents say that they have not seen any fogging machines visiting their areas.
Even officials of the Health Department say that they have urged the MC to conduct fogging in different areas. A senior official of the MC said, "Requests have been made verbally and in writing. If regular fogging is conducted, the dengue virus can be checked on time before it spreads."
Sunil, a resident of the Inderpuri area, said, "A vacant area near our locality is filled with water and mosquitoes prevail here in abundance." Given the present state of affairs, they fear that it would cause health issues.
In Ajnala town near here, after a recent spurt in dengue cases, the Health Department had to pitch in with its hand held fogging machines as no efforts were being made by the Local Bodies Department.
Residents said the fogging exercise should be made a regular feature during these months. "I have not seen any fogging in our area during this season," claimed a resident of Putlighar area.
However, officials of the MC claimed that fogging was being conducted regularly in all areas on a rotation basis. "Earlier, we were covering four wards daily but now we are working double shift and covering eight wards. Now, the turn of every ward comes after every 11 days. Ideally, it should be after seven days," said Dr Ajay Kanwar, Municipal Health Officer. He said they had four machines, which were being put to optimum use.
Meanwhile, the dengue count in the city remains at 132 as the Health Department officials claim that no new case has been reported.