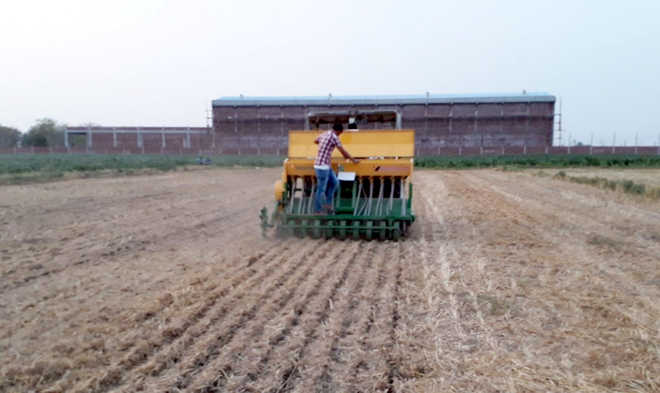 Tribune News Service
Amritsar, May 16
In a scenario where most of the farmers pay no heed to the appeals to shun burning of crop residue, three villages in Ajnala, adopted under a United Nations Environment Programme (UNEP) project, have in entirety stopped the practice.The villages — Rajjian, Bhoewali and Kyampura — have been selected under the UNEP project themed 'Climate and clean air coalition to reduce short lived climate pollutants'. The project, which is being managed by Punjab Agricultural Management and Extension Training Institute (PAMETI), has adopted six villages in Punjab. The remaining three villages are in Sangrur.As most of the farmers prefer burning over alternative techniques, farmers at these villages have even made efforts that no fire from other villages spreads to their farms.Navdeep Singh Samra, project fellow for the three villages, said, "It has been seen that amid ban on burning, farmers hope that fire from other farmers' fields spread to their farms and their purpose is solved without having the fear of being penalised. But here the farmers have made efforts to douse fire spreading from other villages too." Samra said that the biggest challenge was to change the mindset of the farmers. These villages have been provided with machinery and technical help under the UNEP project. Project head Dr HS Dhaliwal said, "Apart from technical knowledge and machinery, we ran a series of awareness programmes in these villages. The walls in these villages have been painted with environment-friendly slogans. The efforts have been successful and we hope that farmers from other villages would emulate the efforts."
Agriculture Engineer Ranbir Singh Randhawa said, "Though a few farmers in a number of villages have stopped burning crop residue in the recent years, it is for the first time that three villages have stopped the practice entirely." Randhawa said the machinery and motivation provided to farmers had been of immense help as most of the marginal farmers couldn't purchase costly machinery. A change in the mindset of farmers is happening gradually with such efforts, he added.
Top News
The nasal vaccine—BBV154 -- had received DCGI approval in No...
Egypt's President Abdel Fattah al-Sisi is the chief guest at...
Announcement was made by Adviser to the UT Administrator Dha...
It reflects the 'myopic' mindset of those in power at the Ce...
In the last year, more than 70,000 people globally have been...