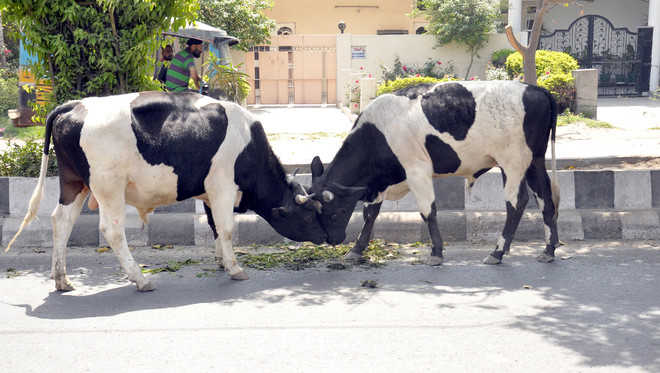 Manmeet Gill
Tribune News Service
Amritsar, March 31
At least four ferocious bulls have made the stretch from Khazana Gate to Hall Gate, near Hindustan Basti, their permanent resting point as a result of which commuters fear crossing the road. They keep on wandering on the road and often fight with one another, making commuting a Herculean task.Area residents say the stray animals have made the stretch their home for the last two months and they can be seen sitting in the middle of road.
The gaushala, outside Lohgarh Gate, is just 500 metre from the point. "They should be shifted to the gaushala as they can cause accidents," said a resident, Kultar Singh, adding that the animals often attacked one another and also vehicles.
A few months ago, a stray bull had hit an autorickshaw on the Bhandari bridge, overturning the auto. Passersby had saved the driver by distracting the animal. "The city has three gaushalas but they do not care for bulls. The bulls are often left on roads and cause accidents," said another commuter, Kishan Lal.
The problem of stray animals, including dogs and cows, is being observed in most of the city areas. In Hidustan Basti, stray animals feed on rotten vegetables thrown by shopkeepers alongside the road. Residents say that though shopkeepers do it to feed hungry animals, the practice is dangerous for commuters.
Mayor Karamjit Singh Rintu said the cattle shed didn't have infrastructure to accommodate more cattle but efforts were being made to shift the stray animals to the sheds. He said the problem would be resolved soon.
Top Stories