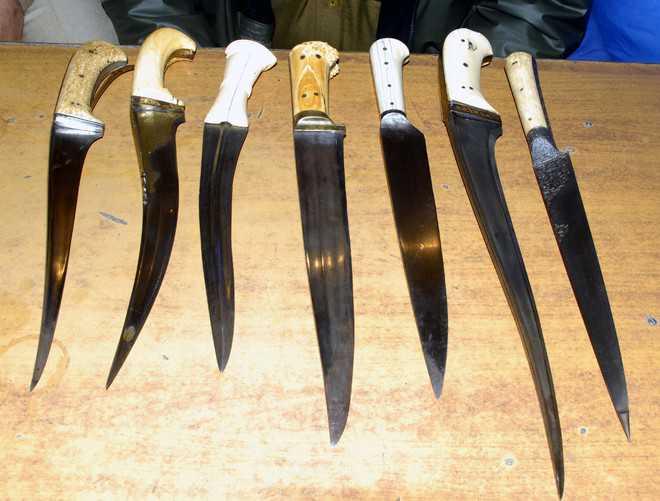 PK Jaiswar
Tribune News Service
Amritsar, January 28
A year has passed since the incident of theft of historical daggers from the Maharaja Ranjit Singh Panorama, located in historic Ram Bagh here, but the police have failed to crack the case and arrest the culprits, who stole the artifacts. The daggers were later left at a gurdwara few days after the incident.
Police officials are banking upon the finger prints taken from the glass box and the room from where it the daggers were stolen. As many as 80 persons are suspects in the case. The finger prints were sent to forensic science laboratories in Mumbai, besides Chandigarh and Finger Print Bureau in Phillaur. The reports are yet to be received by the Police Department.
Investigating officer Parveen Kumar, in charge Lawrence Road police chowki said, "We are awaiting the final reports." He said finger prints of nearly 24 persons were not clear. These finger prints were taken and sent to these laboratories again, he added. He said the report was likely to arrive in the next few days. "It will be clear, who has stolen the daggers," he added.
Till now, officials of the Police Department are groping in dark as to who stole these daggers and what was the motive behind the theft. Around seven historical daggers belonging to Sikh warriors of the 19th century were stolen from the first floor of the panorama. These daggers were in the possession of the Department of Punjab Cultural Affairs, Archaeological and Museum. These artifacts were displayed in a room, which was opened only during VIPs visit.
Therefore, taking the advantage of the lax of security arrangements and defunct CCTV cameras, unidentified robbers decamped with the seven daggers. These daggers are beautifully carved and have ivory handles. Since the theft, the police were suspecting the involvement on an insider.
The police also took fingerprints of all the staff members of the Department of Punjab Cultural Affairs, Archaeological and Museum and employees of the Municipal Corporation, who are deputed for the upkeep of the panorama.
Incidentally, these daggers were later recovered after an unidentified woman left these at a gurdwara with a note that no insider was involved in the crime and the artifacts should be showcased to the general public also.
Top News
After taking oath as Bihar CM for eighth time, JDU supremo d...
BJP fields Sushil Modi, a long-time confidante of Nitish and...
Aviation Ministry had imposed lower and upper limits on dome...
New CJI will have a brief tenure of less than three months
A bench of Justices Surya Kant and J B Pardiwala also extend...