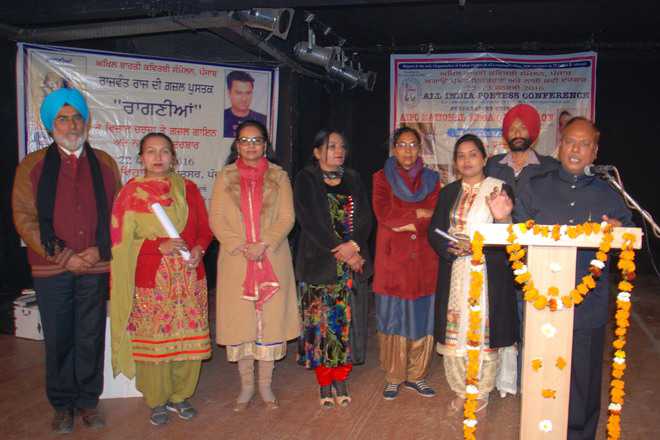 Neha Saini
Tribune News Service
Amritsar, January 22
The biggest gathering of women poets, writers and artists was hosted by Virsa Vihar as members of the All- India Poetess Conference (AIPC) enjoyed a winter afternoon over shared ideas and progressive poetry. Providing a free channel for creative expression and reformation to celebrated women writers across the globe, the AIPC is one of the biggest literary organizations in the world.
Founder, AIPC, Dr Lari Azad, a noted writer and reformist, chaired the convention and also announced the 17th edition of APIC international convention that will be held in Amritsar in 2017. Over 150 women writers participated in the event that was highlighted by a poetry session, a ghazal performance by USA-based artist Meshi Bangad and cultural events. "The AIPC is a platform for lesser-known poets and writers, for women of great literary and creative expression to come and accomplish something together. We are going to organize the 16th International AIPC Convention at Shillong next month and are pleased that Amritsar will the next in line," said Dr Azad. The forum was established in 1999, with the millennium's greatest poetess Amrita Pritam, noted film lyricist Maya Govind, Padmashri Padma Sachdev, Padmashri Prabhjot Kaur and Gyanpeeth awardee Indira Goswami as the earliest executive members. The organization has over 8,000 members the world over and has reached out to writers across 55 nations, including the USA, the UK, South Africa and Russia.
"Our main agenda is to work towards creating national integration through union of different languages. We don't differentiate between languages, whether regional or international. We want to promote regional languages like Gharo, Khasi, Mizo, Gujrati, Punjabi and national languages as equals," said Dr Azad. Notable writers and artist, who attended the conference today, included Inder Kaur Pannu, Satinder Kaur Kahlon, drama director Deepa Kulwant, Ramandeep Kaur, documentary director, Karandeep Singh from Nakodar, Dr Paramjit Kalsi and Kewal Dhalwial.
Coordinator, Punjab, and national convenor for the AIPC International Convention Simrat Sumera too addressed the women. The six-time state awardee and winner of National Literacy Award for her poetry book 'Gustakh Hawa', the Batala-based writer said such conferences give an open platform to women for sharing their talent. "We get women, who leave their day jobs, and other responsibilities for a day to share ideas that reflect upon their inner dwellings and also give a chance to anyone, who has talent, to shine. It also makes young generation aware of the regional languages that otherwise do not get much exposure," said Sumera. Fifteen women achievers were also honoured by Dr Azad and a session of progressive poetry, with undertones of world peace, civil rights, women empowerment and freedom of expression marked the end of the conference.
Top News
The accused ASI was nabbed by local people, who then handed ...
Two frontline combat aircraft of the IAF crashed during a tr...
Gandhi was accompanied by his sister and Congress general se...
PM Modi also appreciated people for eating food items made o...