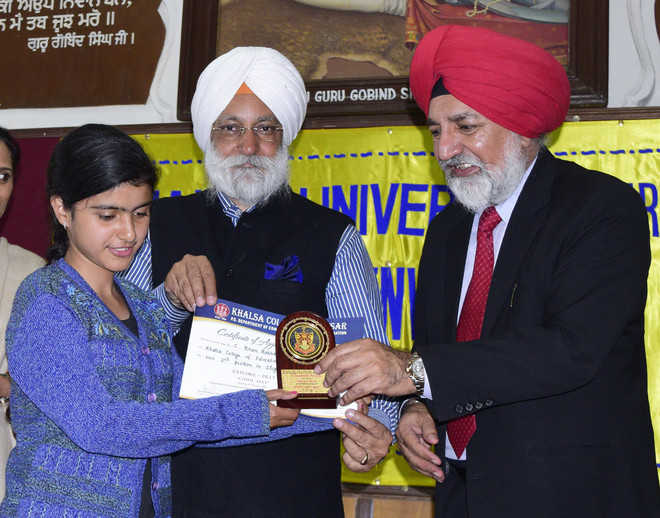 Tribune News Service
Amritsar, March 14
With help from EcoSikh, an NGO working for environment protection and awareness, World Sikh Environment Day was today celebrated on the Khalsa University campus. Students of the university and faculty members took the pledge to work for saving the fragile environment from the challenges of degradation.
EcoSikh chief coordinator and Khalsa College Governing Council joint secretary Gunbir Singh while addressing the students said that conservation of the environment was most important in the present scenario when human beings are playing havoc with the environment by over exploitation of the natural resources.
He said environment protection is basic to the Sikh philosophy, as the Gurus have attached much significance to cleanliness and saving the mother earth. "We motivate the religious, social and academic institutions to join hands for the protection of environment and plant trees on this day'', said Gunbir Singh, explaining how gurdwaras were being involved by their NGO to take part in the campaign for protection of environment throughout the world. The day was observed globally with Sikh religious and nonprofit organisations hosting an array of eco-awareness activities.
The teachers and the students were sensitised to take the pledge to plant the maximum number of saplings in the day to come. A quiz was also organised as students presented creative ways to send across the message of saving the planet.
Eco products launched
A full range of bio-degradables was launched by Dilbir Foundation (DF) on Sikh Environment Day. Under the program hashtags of #NoMorePoisonInMyFood and #SayNoToPlastic bagasse plates, boxes and glasses as substitute to thermocole, plastic and aluminium plates were introduced. Bagasse is a waste material after cane sugar juice has been removed. Also introduced were wooden forks and spoons. Since summer is on the anvil, glass bottles to store water in refrigerators or otherwise have also been introduced.
Chemicals leeching from plastic bottles, toxic releases from thermocole glasses and plates are a health hazard. Also these are waste aggregators which do not biodegrade. Whereas these substitutes are made from reused waste materials, mix quickly in the soil and become manure. Each of these items will be stocked ad also on display at the weekly Organic Sundays Farmers marketplace.
A fourfold brochure was also released in Punjabi for public awareness and action. Said Gunbir Singh, "Sikh Environment Day is a reminder to the faith to follow the teachings of the Gurus, and be mindful of nature. Living sustainably means health to our family and ensuring a clean, green and productive environment. Since today is the first day of the nanakshahi calendar as well, responsible citizenship is a good resolution for the year indeed."
Top News
Ethics Committee of Lok Sabha had recommended Moitra's expul...
'Will fight you for next 30 years inside and outside Parliam...
The observers will visit the states and give inputs to BJP p...
PM Trudeau has made explosive allegation of 'potential' invo...
Cap for e-mandates for recurring payments too hiked