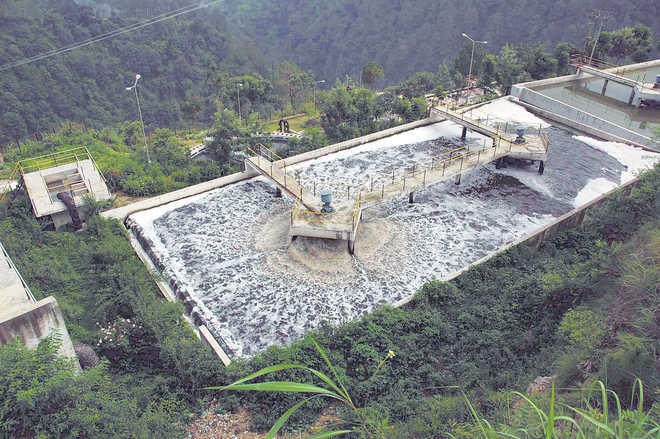 singhking99@yahoo.com
Harvinder Khetal
As the visual on the book's cover suggests, Naina Lal Kidwai's compendium of articles and op-eds for various publications does red-flag an SOS for sanitation. And, yet the wake-up call is not despairing. The strong do-or-die message emphatically laying down the importance of clean water and environment helpfully comes loaded with 'dos' that will save India from 'dying'. Both, the dire ground reality and urgent measures delineated to lift India from the quagmire of dirt and filth depict Kidwai's deep engagement with these issues. Her exposure to framework and policy requirements and issues in these areas in India and also to global thinkers on these pressing topics comes through as she expertly expounds on the action agenda for sanitation, water, pollution and green finance.
A lot has been written about the government's Swachh Bharat Mission and its endeavours to make all the districts of the country open defecation-free. Interestingly, this book red-flags the next step: that is, the significance of disposing of human excreta and treatment of faecal waste. The Modi government would do well to take urgent note of managing this 'sludge' that, if left untreated, will further pollute the soil and water of our urban and rural landscape, and cause disease-ridden insanitary conditions.
This point hits home as she cogently writes: "Waste management is one of the biggest challenges that we face today. Nationally, we generate a staggering 1.75 million tonnes of faecal waste a day. However, there are no systems in place to safely dispose of the bulk of this waste. Nearly 80 per cent of this sludge — human excreta and water mixture that bears disease-carrying bacteria and pathogens — remains untreated and is dumped into drains, lakes or rivers, posing a serious threat to safe and healthy living." Most of our cities are not equipped with proper sewerage to carry this waste or treatment plants.
Thus, the raw, untreated sludge contaminates our water bodies. At the same time, we need water for sanitation. So, water and sanitation are firmly inter-linked. What compounds the problem is that our groundwater is depleting fast, with 54 per cent of the area being under high-to-extremely-high water stress.
The author goes on to suggest a solution to this critical problem: "the FSM system." (Here, the reader is left to find out for herself what the abbreviation FSM stands for. One encounters similar hurdles at a few other places). Well, FSM is faecal sludge management; it comprises the collection, transport, and treatment of faecal sludge and septage from pit latrines, septic tanks or other onsite sanitation systems. It has been successfully adopted by some South-East Asian countries.
Without sludge management, all the development of cities will go waste. To tackle this challenge as well as of air pollution in our cities, given that 14 of the 30 most polluted cities of the world are in India, as per a WHO survey, urban planning requires tailored responses and not just lifting solutions that may have worked in other nations.
But none of this is possible without finance since pollution and urban planning go hand in hand. For a green economy, it is imperative that banks finance only those projects that are doing the needful to contain effluents and polluting agents. The sugar mill/distillery in a Gurdaspur village of Punjab whose molasses recently spilled into the Beas, fatally impacting aquatic life and polluting the river is a case of how ecologically disastrous it can be if such precautions are overlooked. The private and public sectors need to work in tandem to ensure funding for a greener climate.
The book is bound to encourage conversations in light of Naina Lal Kidwai's environmental engagements that include the International Advisory Council of the Inquiry of UNEP, Global Commission on Economy and Climate, Shakti Sustainable Energy Foundation, Chair of the FICCI Sustainability Energy and Water Council, and the India Sanitation Coalition. She retired as Chairperson, HSBC bank. Perhaps, Kidwai could consider penning another book detailing an inside view of these positions.
Though what is needed is more than a conversation, given this alarming, but apt, analogy that Naina has mentioned, highlighting the critical state of insanitation: "When a jumbo jet crashes, it makes front-page news for days. Diarrhoea accounts for 1,600 deaths daily — the same as eight jumbo jets crashing every day. But this is not considered noteworthy and barely gets our attention." Unsafe water is a major cause of this disease. It's an SOS-worthy situation, indeed.
All readers are invited to post comments responsibly. Any messages with foul language or inciting hatred will be deleted. Comments with all capital letters will also be deleted. Readers are encouraged to flag the comments they feel are inappropriate. The views expressed in the Comments section are of the individuals writing the post. The Tribune does not endorse or support the views in these posts in any manner.