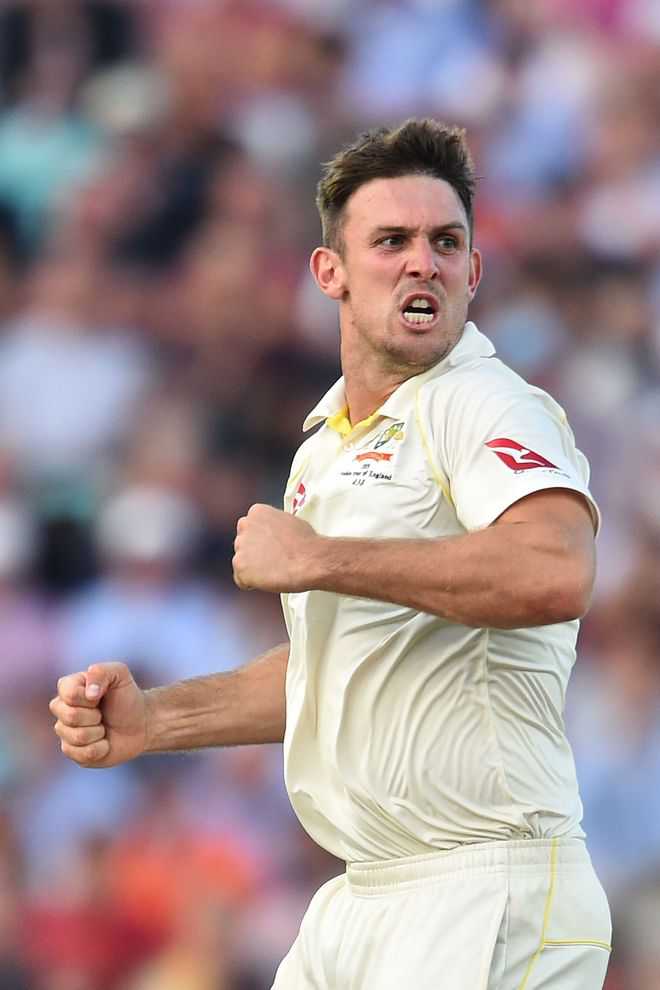 editorial@tribune.com
Melbourne, October 15
Australia all-rounder Mitchell Marsh broke his bowling hand after he punched a dressing room wall in frustration during a Sheffield Shield match and could be out of action for six weeks. Western Australia captain Marsh took his anger out on the wall after he was dismissed for 53 on the final day of his team's drawn game against Tasmania on Sunday.
Scans confirmed the 27-year-old had fractured his right hand and he faces a race to be fit for the first Test of Australia's two-match series against Pakistan starting on November 21.
"It certainly will be an isolated incident... It won't be happening again. It's a good lesson for me, hopefully it's a good lesson for other people as well," Marsh said. "At the end of the day it's a game of cricket. Sometimes you get beaten, you get out, and you can't be punching walls. As a captain, I've done a lot of work in setting a good example on and off the field over the last 18 months since I took over. This is a small hiccup for me," he added. Marsh was recalled to Australia's Test side for the final Ashes match against England last month and national coach Justin Langer has been in touch with him. "He just told me I'm an idiot basically. He was disappointed for me," said Marsh, the son of former Australia opener Geoff Marsh.
Paine backs Smith's return to captaincy
Sydney: Australian captain Tim Paine has addressed speculation over whether Steve Smith will again lead the team once a ban ends in March, saying he would be fully supportive if it happens "one day".
Smith skippered the team until he was suspended for 12 months over a brazen attempt under his watch to alter the ball with sandpaper in the Cape Town Test last year. Paine, who will turn 35 in December, brushed off questions surrounding the Australian side's future leadership. "I'm enjoying having the job at the moment... And I certainly hope Steve Smith does captain Australia again one day, and if he does, I'll be fully supportive of it," he said.
He will almost certainly retain the captaincy for the home summer Test series against Pakistan and New Zealand, despite occasional criticism of his form during the Ashes.
Coach Justin Langer has praised his leadership as "brilliant" and said Smith may not want to take on the "burden" of the captaincy on top of batting pressures. — Agencies
Oz women to get same prize money as men at T20 World Cup
Sydney: Cricket Australia (CA) has said it will ensure its women's team earns the same prize money as men's squad at the T20I World Cup by topping up the winnings paid out by the sport's world governing body. ICC announced an increase of $2.6 million in prize money for the women's tournament on Monday, with the winners and runners-up at the event in Australia set to receive $1 million and $500,000. With West Indies earning $1.6 million from winning the last men's T20 title in 2016, CA would fork out an additional$600,000 to make up the shortfall if Australia's women defend their title next year. — Reuters