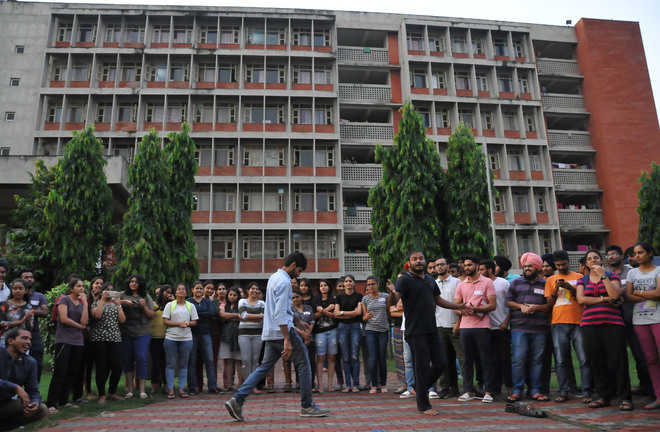 ROBINSINGH@TRIBUNE.COM
Tribune News Service
Chandigarh, September 3
Far away from putting posters and organising panel announcements, the Students for Society (SFS) returns to street plays for campaigning on Monday.
With just three days to go for polls, the party holds its first play-'Mela Votaan Da'- at girls' hostel number 8 and 9.
As usual, Amritpal Singh plays tambourine, Gurpreet Doni, the director, plays the main character. But this time, Students Organisation of India (SOI) leader Simran Dhillon was in the audience.
The play mocks other parties for putting up posters and holding parties and sponsoring visits of freshers to discotheques. It makes fun of aged leaders, who do not go from the campus and supervise election after election. Specifically, Manoj Lubana of the National Students Union of India (NSUI), and Karan Randhawa of the Indian Students Association (ISA) were targeted.
The play focused on the way other parties chose candidates. This time, the SFS is contesting only on the president's post and has given ticket to zoology student Kanupriya.
The party is targeting various academic blocks and hostels through street plays.
Harman Deep, SFS leader, said: "Like other parties, we do not have resources to take students out for movies or discotheques. The mode of street plays not only entertains, but communicates what we perceive has been happening in the polls. It has been an effective strategy."