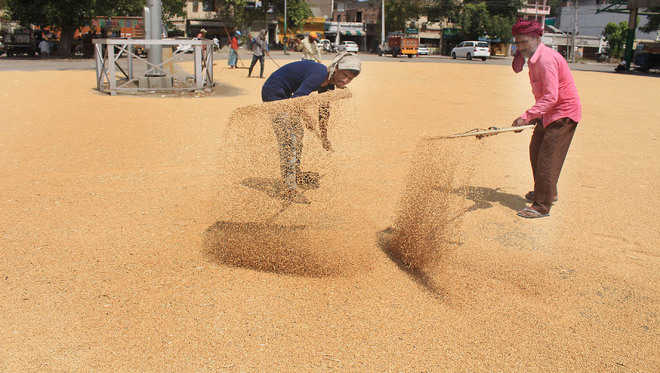 editorial@tribune.com
Tribune News Service
Chandigarh, April 20
Post widespread rainfall in different parts of the state earlier this week, which damaged crop in certain areas, wheat arrivals have picked up in mandis over the last two days.
Latest figures available from the Food and Supplies Department reveal that as of date, 2,79,088 metric tonnes (MT) of wheat has arrived in various mandis across the state. Of this, 99,461 MT arrived on Saturday.
Officials involved in the procurement process reveal that different government procurement agencies like Pungrain, Markfed, Punsup, PSWC, PAFC and FCI have so far procured 1,96,251 MT. The total procurement for the day was 66,082 MT.
So far, 59,005 MT has been lifted with day's lifting standing at 20,999 MT. Despite the rain, the government was hopeful of highest ever wheat yield in the state, expected to be 52 quintals per hectare, up from the previous high of 50.09 quintals last year.
The previous high of wheat production was in 2011-12, when the state produced 179.7 lakh MT mainly because of increase in area under cultivation as well as favourable weather. Last year, wheat production was 178 lakh MT.
Meanwhile, the final report on the loss due to heavy rain across the state earlier this week, is under-preparation. Official sources reveal that as per preliminary reports made by the field officers, including those of the Agriculture Department, the loss is not as heavy as it looks due to the inclement weather. Farmers and officers are hoping that increase in temperature will help in the recovery of the grain and the loss may not be more than 2 per cent.
Top Stories