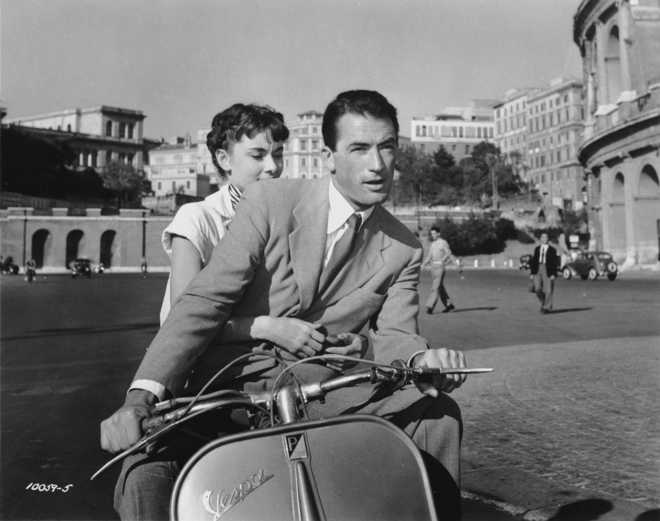 Salil Desai
If anyone could claim to be the original chocolate hero of Hollywood, then it had to be Gregory Peck. Towering over 6 feet, lean and athletic, his gruff baritone voice, sharp good looks and narrow eyes were God given matinee-idol material. But what was even better was that Peck's personality dripped with a certain old-world nobility that consecrated him as the ultimate good guy. The impact was heightened by his subtle acting, bordering on underplay. It was a brilliant combination that floored audiences for nearly 30 years.
Who else, for instance, could have played the gentle, brave and upright Atticus Finch in that classic, To Kill a Mockingbird (1962)? Anyone who has read Harper Lee's novel will, at once, agree that Gregory Peck personifies the dignified bearing and moral grace of the middle-aged southern lawyer, defending a black man against false charges of rape. As a widower and caring father of two kids, as someone who conducts cross-examinations without haranguing or hectoring even lying witnesses, and as a man who is also physically brave but unaggressive, Peck delivers a most un-hero like, heroic performance. No wonder he won the Academy Award.
In Roman Holiday (1953), Gregory Peck teamed up with Audrey Hepburn, to display his flair for romantic comedy. Hepburn as the runaway princess and Peck as the street-smart journalist, angling for an exclusive story, make audiences fall in love with them as they flirt, fight and frolic on the streets of Rome. Once again, Peck's character reflects the underlying gentlemanliness of his own personality, by promising to keep the secret of the princess' sojourn forever, completely against his journalistic instincts and interests.
Two blockbuster films, which are a must-see to understand how wonderfully Gregory Peck also played the conventional action hero with élan, are MacKenna's Gold (1969) and The Guns of Navarone (1961). In MacKenna's Gold, a western, Gregory Peck plays a stoic, law-enforcer, who is taken captive by a Mexican outlaw, Omar Sharif to help him find hidden treasure, the location of which is known only to Peck. In this visually stunning and action-packed film, Peck holds his own as the only good man among a bunch of crooks. He brings a quiet, watchful, shrewd courageousness to his role that is in perfect contrast to Omar Sharif's strutting bluster and wicked ruthlessness.
In The Guns of Navarone, based on Alistair Maclean's famous novel, Gregory Peck plays Captain Mallory, the leader of a small band of armymen tasked with destroying huge German guns on a Greek island, that constantly bombard Allied ships, during the Second World War. Peck tunes in with another performance that dominates by playing Mallory as a man of few words, supremely cool-headed, determined and one who knows how to handle his volatile crew — characters played by stalwarts like David Niven, Anthony Quinn and Anthony Quayle — well. Indeed no theatrics and overt machismo were hallmarks of Gregory Peck's portrayals.
But that did not stop him from playing villain roles too. Early on, his role as a handsome, lusty playboy who wants to seduce the heroine in Duel in the Sun (1946) was edgy and invited dislike. He also played the evil Dr. Mengele, the Nazi doctor who conducted horrible medical experiments on Jews, in The Boys from Brazil (1978). In this completely fictional sci-fi film, it's a revelation to watch Gregory Peck's normal persona being transformed into that of a cold, calculating, inhuman killer. But his most challenging role with shades of negativity is that of Captain Ahab, the vain mariner, hunting for the whale in Moby Dick (1956). Undoubtedly, this is one of Peck's outstanding performances and he has captured the vengeful, self-destructive streak of the character beautifully.
Indeed, Gregory Peck also shot for a film in India called The Sea Wolves (1980). What a heck of a performer!
Top News
AAP concedes defeat, congratulates Simranjit Mann
Political journey of Mann started when he resigned from Indi...
From resistance against Mughal invaders to British Empire, f...
Punjab CM Bhagwant Mann's leadership also under scanner
The song got 27 million views in just two days