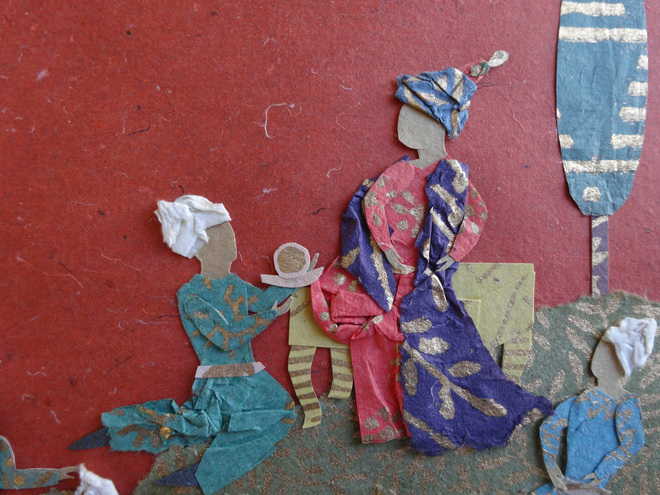 BN Goswamy
"When the Rio Conference (the 'Earth Summit', 1992) made ugly facts public, like how many trees it takes to make a phone book, I recalled Dard Hunters' book, published in the '20s about paper-making in India and wanted to know what survives. I went to Lucknow to meet Munnalal Khaddari, a 90-year-old kagzi whose papermaking book I'd read in the British Library. He asked me to write, about real paper, made by hand."
"At the Bombay Paperie we seek to breathe new life into the dying craft (of hand-made paper making). With the help of the last two remaining master papermakers we have been able to train a younger generation. The vats are in use again to make the thin, strong paper of old, possibly the last mill to make it out of cotton rags."
— Neeta Premchand
The first passage is some 25 years old when Neeta Premchand — a woman of many parts and much resource: householder, entrepreneur, innovator, story-teller, traveller, distinguished citizen both of Switzerland and of India in a real sense — was just embarking upon her tireless journey into the world of hand-made paper. By the time she had finished her greatly admired first book, Off the Deckle Edge, she had been completely 'claimed' by paper, as it were. A great deal of activity followed; she scoured Rajasthan, especially Sanganer which had a history of paper, tracked down and acquired an old paper 'manufactory' in Daulatabad, began producing hand-made paper using the most conservative and 'sattvik' of methods, founded the Bombay Paperie which has become a mecca of sorts for hand-made paper aficionados, worked with architects and craftsmen in Kutch to create very low-priced small huts. And, most recently — something that I saw with disbelieving eyes just last year — was instrumental in getting the distinguished Japanese architect, Shigeru Ban, to create a whole, perfectly usable, spacious summer pavilion, as an extension of the Museum Rietberg in Zurich, made entirely of paper and cardboard: complete with structural columns, trusses, screens and awnings. All this, I need to remind the reader, is only a sampling of what Neeta Premchand has been doing and involved in.
Aware of all this as I was, I was taken by surprise yet again, when — again in Zurich last year — I received from her a greeting/notes card featuring on the outside the figure of an elegantly dressed prince, standing, facing right, right hand lightly raised, the other resting, one imagines, on the hilt of a sword tied to his waist. The figure was neither drawn, nor printed: it was made of most skilfully torn, folded and arranged strips of hand-made paper. It was, I could recognise, the figure of prince Nala from the famous Nala-Damayanti series of paintings on which I had been lecturing at the Museum a day or so earlier. The detail was astonishing, for just about everything was in place: the flared jama-skirt with all folds and wrinkles intact, the patka-waistband tightly wound around the waist, the snugly tied turban with an aigrette topping it, even the tip of a sword peeping from the other side of the figure. Greatly intrigued and attracted by the figure, I asked Neeta if this is what she was currently engaged in doing. In response, she simply showed up the next day with a series of books which she had been writing and illustrating — and of course producing — with a whole range of seductively coloured, folded-paper figures and landscapes inspired by traditional paintings.
There were stories in the books, one of them telling a much-loved tale of Akbar and Birbal designed for children to read and savour. But it went well beyond that: a series of three books, under the general title The Story Teller and his Bag of Myths, narrated the ancient myth of the Great Flood which many cultures shared, each with its own variation of course. Manu and the Flood was how one of the books in the series was titled, the story taken obviously from a Puranic tale in India; Noah and the Flood was based on the Testament; and the Myth of the Flood from the Epic of Gilgamesh, which goes back to ancient Mesopotamia. The tales were told with relish and simplicity and the illustrations — all folded-paper figures and settings — held everything magically together. There was in them figuration and abstraction, observation and imagination, silence and eloquence as they say, all mingled together. One could see the storyteller walking with his bag of myths against a flat ground; the dove had taken to wings as Noah's Ark floated on stylized water; a humble servant was offering a drink to his Shah in a crowded setting; Krishna was playing on his flute seated on a full-blown lotus.
There was a publisher's note at the end of the books: characteristically a 'claimer' and a disclaimer. "The original artwork for this book was done on a very special handmade paper. Following a 17th century tradition, it is made entirely by hand using waste cotton fibres. …The paper is then printed on by hand in another dying tradition using hand-carved wooden blocks…."
Top News
Overseas ramifications as Boris Johnson's brother quits link...
Both Houses adjourned for the day amid uproar over Adani iss...
DGP said Arif was being handled by a Pak-based LeT terrorist...
CM Kejriwal says all the cases filed by ED are fake and they...
IPS officer has been accused of corruption and misconduct du...