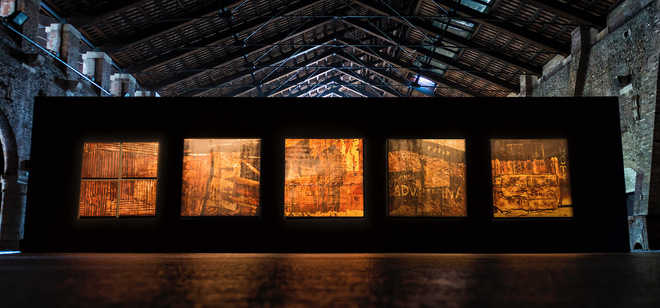 Monica Arora
Photographer, artist, filmmaker, TEDx speaker, dreamer, social worker, activist, CSR adviser for corporates, adventure seeker… Adjectives and titular nouns fall short to describe the prolific Samar Singh Jodha. Nomadic and almost spiritual in his pursuance of discovering sustainability and capacity building through art, which was incidentally the subject of his 2013 Vienna TEDx talk, the artist-photographer is a self-confessed student of life.
We meet him on a balmy Saturday afternoon in New Delhi, just after his trip from Jaipur, and he speaks at length about his myriad causes and passions. To begin with, he recalls, "For almost two decades, I have been conducting the Express/Aspire Workshops for the underprivileged and marginalised children in Asia and Africa. I strive to identify those amongst the motley lot in a classroom, who are always at the fringes; those who are constantly shoved and punched around. I pick them through specialised dramatics or storytelling workshops and empower each of them with a camera. Once they have shot a picture and achieved a triumph, they transform into heroes from underdogs. Just like that!"
Jodha says the morning assembly is where their moment of fame and glory begins. "Each bully who messed with them wonders how it was actually done and how did the so-called wimpy kid turn superhero at the click of a button!" Such is the sense of power and spirit of triumph that Jodha instills in the kids.
His own journey as an artist has been a meaningful one so far. As his reaction to the heart-wrenching Bhopal gas tragedy of 1984, he set up an installation in tandem with Amnesty International. It showed a train journey in a 40-foot container that was hoisted at the 2012 London Olympics as a protest against Dow Chemical Company that had bought Union Carbide in 2001 and was sponsoring the gaming extravaganza.
At the 55th Venice Biennale, he installed Outpost, a composition of discarded containers designed into habitat of miners, which were a personal commentary on contemporary global culture. The work won him international accolades. These days, Jodha is busy judging a photography-based reality show on television. He is picking aspiring photographers from mofussil towns and villages besides, of course, metropolitan cities. The winner would feature on the cover of the National Geographic Traveler India magazine.
Travel, in fact, comes naturally to Jodha who maintains a non-sedentary lifestyle. In this pursuit, he took upon himself the onus of tracing the WWII road from Kunming in China to the upper regions of Burma, from where he entered the Northeast. With a wry smile, Jodha recounts this crazy adventure. "During this visit, I chanced upon the dying tribe of Tai Phake in the Phaneng region of NE India. Presently at a dismal population of a mere 1,500, this was my muse and subject for the portraiture project Phaneng, focused exclusively on this near-extinct Burmese Buddhist tribe. Exhibited as a part of the work shown at the Corcoran Gallery of Art, Washington DC, I managed to set up an eco-tourism project, assisted in revival of traditional textiles, educational programmes and reforestation in the otherwise unknown area."
Having been commissioned projects by the likes of Bill & Melinda Gates Foundation, BBC World Service Trust and the United Nations, Jodha also finds the time to helm a corporate communications company at Dubai. Amid all these, his Red Balloon project is the closest to his heart. "It is all about a transparent, digital and friendly platform created to connect children from all over the globe. For instance, if a child in Tanzania posts a picture pertaining to dearth of footballs in his school, that image can be used to tap a supplier of footballs at Jalandhar along with a FedEx transporter to get them delivered free of cost. My dream is to create such a global platform. To ensure its seamless operations, I hope to rope in an auditing firm as well as a law firm to ensure that all funds are channelised into the right slots, and more importantly, safeguard that every penny is transparency driven."
Meanwhile, he continues to travel and experience what he terms as the "learning curve" that each experience with kids spread all over the globe imparts. His eyes light up when he recollects how he celebrated his 50th birthday with the Afghan kids who have been living in secure camps within their war-torn country and are under military protection. "We had an impromptu picnic with food, mirth, fun and laughter, and that was priceless!"