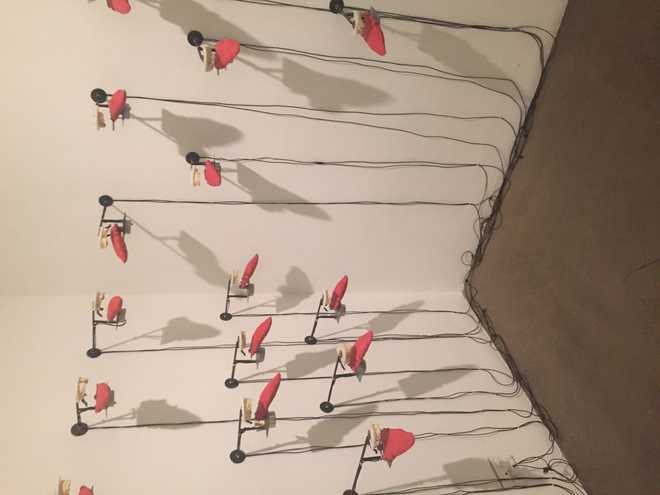 Monica Arora
Shailesh BR's work is perhaps the most unconventional and unexpected that you may have seen amongst contemporary artists in the recent times, and that is what makes it all the more engaging and awe inspiring. He draws inspiration from several concepts in Sanskrit, a language he studied and mastered for some 14 years during his early childhood. His creations reflect the rural upbringing and simplicity of life as in his village, where even an electric bulb was regarded as a huge miracle.
In an interview during a Khoj workshop in 2015, Shailesh had articulated, "I do not know how to work, but I sure can create for my own and from my own."A post-graduate from Faculty of Fine Arts, MSU, Baroda, the artist uses the ordinariness of mundane objects to turn their notion or existence around.
He recently put up his first solo show at the Vadhera Art Gallery in New Delhi as part of Foundation for Contemporary Indian Art (FICA)'s Emerging Artist Award Programme. This show was known as Tarka, being derived from Tarka Shastra or the art of debating, enquiring and logical reasoning as prescribed in ancient Sanskrit philosophy. Through his myriad creations, he has questioned the origin, life journey and end of several objects and that is what draws onlookers to this unique body of work.
Occupying centre piece at the exhibition was the Kshir Dhara, a series of sculptures that explore repeated actions whilst performing religious ceremonies such as the grinding of chandan on a slab or application of tilak on the forehead. These are used as metaphors in sculptures made from material such as wax, motor, sandalwood, honey, motor, water, milk, copper.
Created from rubber, motor, iron was The Tongue, a set of kinetic sculptures that represents the various sensory functions and organs of the body that pertain to sensations of touch, taste, smell, sight and so on. Similarly, the Hot Tongue, comprising of plaster, coil and iron mesh, seems to be a satirical statement on the art of glib talking and nonsensical jargon, which is innately ingrained in the political and bureaucratic machinery.
The most evocative of all creations was the Philosophy Machine. Essentially a wooden rotating disc fitted with lamps arranged in a circle, it has a gas flame pipe to light the lamps at one end and a blower pipe to extinguish them. This remarkable creation is a representation of the circle of life and is a stunning commentary on the fact that death is inevitable.
Philosphy Machine Drawings was a series of 48 drawings. These inhabit little corners at the gallery and are mostly arranged as asymmetrical drawings on vintage, sepia-tinted and yellowing paper that appear as blueprints or pages from a novella or a personal diary or an old school examination. In most, there is no attention paid to any spelling or grammatical errors and reflect a childlike innocence with several drafts, cuts, scratches and random musings. Also, the 46 tongue drawings are an extension of the sculpture and endeavour to decode the tongue as an organ of taste, articulation and hence, as an allegory for human emotions, sensory as well as of the mind faculties.
It's almost as if he had taken tiny bits of childhood memorabilia and when he saw similar objects during adulthood, he re-interpreted those in a completely different manner and re-arranged the conventionality and typicality associated with them.
Top News
Ethics Committee of Lok Sabha had recommended Moitra's expul...
'Will fight you for next 30 years inside and outside Parliam...
The observers will visit the states and give inputs to BJP p...
PM Trudeau has made explosive allegation of 'potential' invo...
The firing incident of December 3 was caught in a CCTV camer...