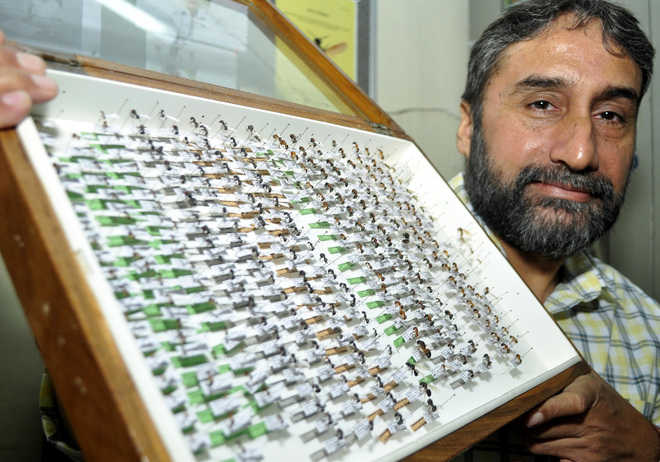 Jasmine Singh
Whenever someone nags you for leaving open a box of sweets lest it attracts ants, you can smile back and tell them that at first, only one ant will come. It will scrutinise the sweet, go back, and then it will recruit an army of ants, who will carry the food back to their colony! And of course, you can attribute this piece of information to ant-man Dr Himender Bharti, professor, Department of Zoology and Environmental Sciences, Punjabi University, Patiala. Interestingly, Leptogenys Bhartii, a species of ant, has been named after this ant-man. The 11-12 mm ant was found at the southern foothills of the Pir Panjal mountain range in Jammu & Kashmir by Dr Shahid Ali Akbar, a scientist from Srinagar. His findings were published in the Biodiversity Data Journal.
Dr Bharti came to know about the new species of the ant being named after him while reviewing a manuscript describing a new species of ant discovered by the team at the Central Institute of Temperature Horticulture, Srinagar. "I was obviously surprised," smiles Dr Bharti, as he pulls out the picture of the ant that will carry his name forward! "I did not review the paper since it would have been unethical on my part."
Tracking their path
Known as an encyclopaedia on the most neglected species, 'ants', Dr Bharti joined the Department of Science and Technology, Punjabi University, as a scientist in 1998. It was, however, during his master's degree that he read about evolutionary biologist Edward Osborne Wilson. Wilson's non-fiction novels on ants got Dr Bharti's attention, and he started trailing the insect.
"Literally," he smiles softly, talking about how he was impressed by the 'special attributes' of ants, and how he decided that he would take up research in this field.
"Ants are social organisms. Throughout their lives, they stay in groups and colonies; I wanted to understand their physiology, genetics, behaviour and evolution."
A study published by Dr Bharti found that there were 835 species of ants in India. Out of these, he discovered 80 species. This myrmecologist (myrmecology is the study of ants) visited Southeast Asia, Pakistan, Sri Lanka, Vietnam, Bhutan, Austria, Thailand and Malaysia in search of these species. Today, Dr Bharti can recognise species of an ant at a glance! He laughs. "It is a gratifying experience. Sometimes, students pursuing myrmecology WhatsApp me pictures of the ants they randomly find. I enjoy identifying these," adds Dr Bharti.
A neglected field
"In India, the study of ants is the most neglected field. Researchers are mostly enamoured by either birds or butterflies. I am sorry to say but these researchers are contributing nothing to the field of science. They just click pictures, download information regarding the species and share the same on social media," adds Dr Bharti, who is also a member of the International Union for Conservation of Nature (IUCN) group for the conservation of Asian ants.
According to Dr Bharti, "The biggest challenge when I started research was convincing people as to why I was studying ants. I was asked what good would come out of studying something they thought was so inconspicuous."
But with time, people warmed up to him as well as the ants! "I started sharing my findings in science magazines and journals. I spoke about ants and discussed the findings with students at various colleges and universities," adds the proud professor, who has 13 students pursuing PhD in myrmecology under his guidance.
"I get queries on ants from all over. Last year, a student of Class IX from Coimbatore presented a paper on 'The use of ants to counter elephant menace'. It is nice to see that this species is finally getting some recognition."
Understanding humans via ants
World over, scientists are studying ants. Ants have been perceived as workaholics. Many scientists are trying to understand how climate change will affect the world, by determining the thermal tolerance level of various species of ants, and then predicting what will happen if our world gets hotter. "Researchers are looking at how the gene expression of ants can control the environment. This can solve the biggest problem of climate change that the world is facing," shares Dr Bharti, who is currently working on the chemical communication of ants known as chemical ecology.
"Millions of ants stay in a colony; they go about doing their work without communicating. But in reality, the ants have the highest form of communication, which takes place through the release of chemicals."
Myrmecologists across the globe are even trying to understand human behavioural patterns through ants. They are known to stay in a self-organised system.
"Learning about how ants organise their collective behaviour may help us understand other systems," shares Dr Shahid Ali Akbar. Myrmecologists are also trying to solve the biggest puzzle, which is how a species can sacrifice itself for the coming generation, the highest in the peak of evolution!
"Meanwhile, scientists all over the world are trying to discover a software to control traffic by using the ant algorithm (how ants manoeuvre in their colonies without bumping into each other)," adds Dr Bharti for whom ants are nothing less than 'God'. "They are the masterpiece of evolution, the most beautiful creatures." So beautiful that Dr Bharti has named two ant species after his daughters — Mermica Adrijae and Mermica Urvijae.
Both Dr Bharti and Dr Azad are hopeful that a breakthrough in this field will help the world at large. "But the problem with the scientists in India is that they are trying to understand and decode molecules and DNA while the western world is researching basic sciences. And, the Nobel Prize goes to basic sciences."
---
Where are they found in India
Two biogeographically significant regions of India — the Himalayas and the Western Ghats — harbour a large number of ant species.
656 species from 88 genera were recorded from the Himalayas while 455 species from 75 genera were recorded from the Western Ghats.
From a total of 835 species, 256 (31 per cent) were considered endemic to India. Nearly 71 per cent of these are exclusively concentrated in the two above-listed biodiversity hotspots.
West Bengal has the highest number of species (382) followed by Sikkim at 276.
The most speciose ant genus is camponotus with 83 named species (1/10th of the known Indian species), followed by polyrhachis (71), pheidole (58).
Other diverse genera include tetramorium and crematogaster (42 and 41, respectively), leptogenys (34), myrmica (33), aenictus (32), strumigenys and carebara (24 each respectively).
Fact File
The average life span of an ant is 12 to 13 years. Some ants can even paralyse the brain of a centipede.
Invasive species of ants can disturb the entire ecosystem by wiping out native species.
Species like Red Fire ants are said to have invaded America, Australia and Japan and destroyed the habitat of native ants.
There are chances of invasive species invading India as well.
Top News
Odisha government has issued helpline 06782-262286. The rail...
At least 50 people died and 350 were injured in a three-way ...
WFI chief demanded sexual favours in lieu of supplements and...
Said agitation will be intensified by holding panchayats acr...
Former British PM Winston Churchill and South African Presid...