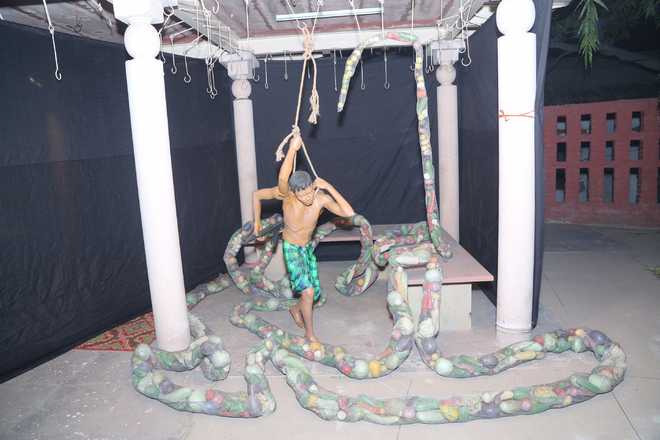 Nonika Singh
Art is for public and public for art.
But not so in India or at least not often enough as space for public art in India is just about minuscule and awareness in its infancy. Yes we pride ourselves as a country rich with artistic heritage. Many believe art yes public art has been part of our sub-consciousness since centuries. But look around and public art is conspicuous by its near absence. Once in a while few installations sprout up here and there, literally as regular visitors to New Delhi are familiar with steel sprouts of Vibhor Sogani. However, consistency thy name is not public art policy.
But as the Capital is ready with Publica a public art festival, for a month the art works on display at strategic points in Delhi hopefully will generate buzz. At least that is the intention of Floodlight Foundation and Surbhi Modi the chief curator and founder of Publica. Actually Surbhi felt the urgency for public art during her extended stays in the West where it's as commonplace as the common man. While Indian-origin British artist Anish Kapoor's public sculptures have been the cynosure of art lovers around the world, even Indian artists such as Mumbai-based Jitish Kallat's works find pride of place abroad. Kallat's work titled Here After Here After Here, an endless loop of highway signage measuring 17 x 6m was unveiled at a Austrian round about. It isn't as if Indian artists don't get a chance to do public art projects in India. Sudarshan Shetty's The Flying Bus turned around the double-decker bus, gave it wings and created a gallery space inside it. When it was first exhibited at Bandra Kurla complex, it evinced keen interest, and even the average passerby was hooked. But such exciting examples are few and far between.
Lucas Munoz, who comes from Spain, agrees that public art is a way of life in countries abroad. However, as he has created one for India out of locally available indigenous material like bamboo, muslin cloth and pedestal fans, the idea is not only to engage but also to make them think. The work to be installed at city's prestigious mall will soon bear testimony to country's polluted air.
Bhuval Prasad, who likes to create artworks by crushing materials, too talks about our total disregard to environment which we go around littering with crushed bottles and more. Whether his mammoth red work in metal will convey his thought or not, he intends to make himself clear by writing a note along side. Without a doubt, he feels public art must voice a public concern. And many a public art initiative project such as Missing by Leena Kejriwal have made it a mission to draw attention to the issue of female foeticide.
But art, public or otherwise, is not a crusade. So believes Owais Husain, the youngest son of legendary MF Husain. Settled in Dubai, he has been a part of many public art initiatives. The one he has done for Publica, a house like structure which he calls a prequel to his famous work Heart of Silence through which you can literally walk through is an immersive experience. It plays with light and reflection, placing self at the heart of it. Certainly it alludes to complex issues like displacement but essentially this kind of art is an experience to be absorbed and become one with.
Surbhi believes artworks have to be site specific and must keep their audience in mind. For instance, India Habitat Centre can go in for conceptual works since those visiting the place have some understanding of the art if not a heightened perception of artistic practices. Similarly the choice of material, too, must be dictated by the final environment. But for Anant Mishra, who often creates projects in villages of Jharkhand, response is the key. His larger-than-life work titled Are We Humans Yet, juxtaposing elephant with a tiger, raises valid questions about our ecosystem. As he has used papier-mache for this work and in rural hinterland creates works out of bandages, he doesn't care whether the work lasts forever or not as long as it stimulates the viewer. Of course, India's responsiveness to art is little to write home about. Though Owais contends, "We don't need the West to tell us what is good for us," Surbhi feels on the contrary. She says, "We keep on reiterating that we have lived with public art for centuries. While the truth is all that what we club under the generic term of art are sculptures and buildings. Unless you ascribe a work to an artist or a group of artists it's not an artwork."
And unless we reserve and earmark places for public art, we won't reach anywhere. Are airports a good starting point? With 7000 works of art, Mumbai's Terminal 2 became home to the largest art collection of any airport in the world. Even celebrated artists such as Gulammohmmad Sheikh agreed to do commissioned work for what is arguably India's biggest public art project. But then again while there is no denying its artistic merit, its access to public is limited. Except for international passengers, it's out of bounds for most Indians. Hence, it doesn't quite fit the 'public art is for public" bill.
Surbhi advocates a bottoms-up approach rather than top down. Metro stations are a far better option. In fact, 'Art in the Metro' is an ongoing initiative by India Habitat Centre and Delhi Metro Railway Corporation at Jor Bagh and Mandi House. She also feels the model that will work best is public private partnership. "The role of government", she asserts, "can't be undermined but can't be overstressed either. For the government often puts wrong people in the job." More often than not, critics are dismissive of government-sponsored commissioned public art projects.
In an ideal situation, the government should take care of artistic intervention in public spaces but since we don't live in an ideal world private initiatives fill in the dots far better. Founded in 2009, ArtOxygen is a Mumbai-based art initiative curating and producing public art projects. Foundation for Indian Contemporary Art (FICA) is a non-profit organisation that hopes to broaden the audience for contemporary Indian art has also come up with a Public Art Grant. The idea is to generate interest in public art projects in India, initiate an open debate among artists, local communities and the public to look at shared environments in different ways. The Floodlight Foundation provides artists with an environment where they can fine-tune their practice, receive curatorial support, technical guidance in making their works, and finally get help in promoting their works. Closer home Sangeeta Jindal of JSW takes her role as an art patron rather seriously and sincerely believes art has to be for everyone not just jet-setting elite. Surbhi, who initially toyed with setting up a museum soon settled for public art festivals, "We have to take art to people."
Artists like Subodh Kerkar feel strongly about public art. But he cautions, "Public art can't be a rape of nature. On the contrary, it must enhance nature's beauty. It has to be a symbiotic relationship." Owais insists public art projects have to be in the hands of experienced curators and not left to those with little imagination. Above all, public art can't be confused with statues and can't be an ode to powers that be. Should it provoke and disturb? Administrations are wary of such works. Given the socio-cultural milieu of India, they steer clear of art that would rattle onlookers. But then it's not just Owais who reminds us "intolerance is an international currency". Anish Kapoor's Dirty Corner at the Versailles has been vandalised many times often with anti-Semitic slurs. In India, of course, where art works are not even safe in galleries who can take guarantee when they lie open to public gaze and touch?
But touch is the theme of Publica that wants to challenge "touch them not" diktat of museums. Publica aims to up the viewers' engagement and even ask them to vote for their favourite work and choose one that they would like to be a permanent part of their cityscapes. The day art would light up our cities and public would have definite say in it might be far but not impossible. After all didn't Picasso say, "Everything you can imagine is real." And artistic fraternity and art lovers have begun to imagine a world where to paraphrase Degas, "art is what you make others see."